Shez Raja is a seriously talented electric bass player whose work in a fascinating mix of Indo-jazz, funk and groove settings has propelled him to the forefront of the UK jazz scene.
Since the formation of his collective in 2007 his energetic and extremely fluent playing, combined with his innovation as a bandleader, have already drawn comparisons to the style of electric bass legend Jaco Pastorius.
At 606 Club, The Shez Raja Collective will feature material from the Collective's last album, "Soho Live", which was recorded with heavyweight UK artists including Soweto Kinch, Shabaka Hutchings and Jay Phelps as well as material from his coming Album, featuring the Randy Brecker and Mike Stern. Shez leads a formidable line-up featuring Polish folk-jazz singer Monika Lidke providing beautifully structured melodic vocals in front of a band that is completed by Vasilis Xenopoulos on saxophone, Pascal Roggen on electric violin, Alex Stanford on keyboard and Chris Nickolls on drums.
Adding even more intensity and spark to this 606 gig will be Shez's Special Guest, guitarist John Etheridge, who first took the UK jazz scene by storm in the 1970's as a member of the classic fusion band Soft Machine, and as guitarist in the band of celebrated swing jazz violinist Stéphane Grappelli. A superb and versatile musician with a vast reservoir of creative energy, John includes work with the likes of Dizzy Gillespie, Tony Williams, Yehudi Menuhin, Pat Metheny and John Williams on his extensive CV (while also leading several of his own groups, notably the "Zappatistas", his tribute to Frank Zappa).
Shez recently signed a recording deal with US/European label Dot Time Records (also home to Theo Jackson and Ola Onabulé), adding further momentum to his increasing sphere of influence in the UK and beyond. His first release on the label is scheduled for release in early 2016.
To add to the evening's excitement, West London craft brewery Portobello ("brewed the West way") has come on board to support the night, so we can be sure that the vibe in the Club will be extra happy. Shez says: "Expect exciting music that's full of surprises – a sonic kaleidoscope of euphoric jazz, thundering funk, tuneful ragas and intoxicating grooves!" Hmm, that sounds like something you will not want to miss.
Details: 
Artist: Shez Raja Collective
Date: 1 October
Times: 8:30pm
Venue: 606 Club
Address: 90 Lots Road London | SW10 0QD
Tel: 020 7352 5953
e-mail: jazz@606club.co.uk
This Show is sponsored by :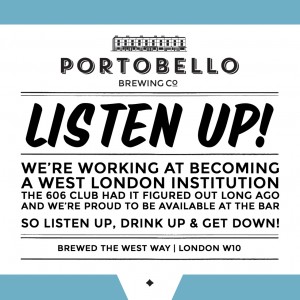 Last modified: July 15, 2018