Beginning September 2015, Dutch jazz fans will be treated to a theater production featuring an all stare line up, the Crème de la Crème, of the Dutch jazz scene. With more than 35 performances throughout the Netherlands "New York Round Midnight" is set to be one of the Netherlands largest jazz productions in recent times.
The show takes you back to the turbulent nightlife in the famous jazz clubs of the 1950's and 60's around 42nd st and Broadway in New York City. The show provides the public with exclusive look at behind the scenes of the jazz world through the use of intimate portraits and tasteful and exclusive anecdotes.
From a musical perspective the show features the contagious swing of Count Basie and Frank Sinatra, the intimate fragility of Billie Holiday and Miles Davis and the hard bop of Art Blakey & The Jazz Messengers.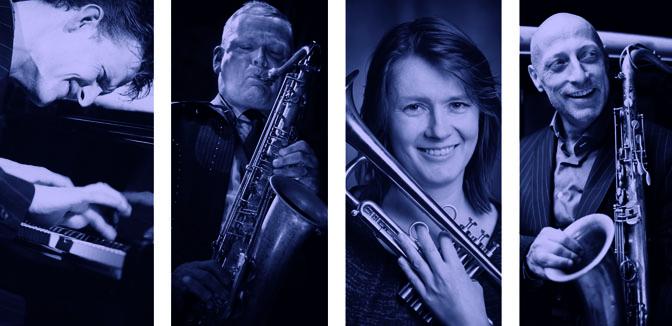 The cast includes Deborah J. Carter and Paul van Kessel (Vocals), Miguel Rodriguez (Piano), Ellister van der Molen (Trumpet), Rollf Delfos, Ben van den Dungen and Alexander Beets (Saxophones), Marius Beets Double Bass and Gijs Dijkhuizen (Drums)
The show is narrated by Koen Schouten, author of Jazzhelden and writer for the Dutch daily the Volkskrant.
Performances:
18-09-2015 | Cultuurcentrum VU Griffioen
24-09-2015 | Jazzpodium Waterweg
02-10-2015 | HotHouse Redbad
03-10-2015 | De Groene Engel – Oss
16-10-2015 | Voorhuys Emmeloord
18-10-2015 | Schouwburg Cuijk
29-10-2015 | Theater de Kattendans
31-10-2015 | Prismare
08-11-2015 | Theater Sneek
13-11-2015 | Theater Junushoff
21-11-2015 | Cartouche Graft-De Rijp
27-11-2015 | Schouwburg De Meerse
28-11-2015 | Theater Piet Mondriaan
29-11-2015 | Philharmonie
19-12-2015 | Schouwburg De Lawei
—- 2016 —-
10-01-2016 | Theater Hofpoort
14-01-2016 | Posthuis Heerenveen
16-01-2016 | Parkstad Limburg Theaters
22-01-2016 | Theater 't Onderdak
12-02-2016 | Podia Heemstede
26-02-2016 | Schouwburg Middelburg
04-03-2016 | Theater Harderwijk
05-03-2016 | Theater de Koornbeurs
20-03-2016 | Theater Walhalla
23-03-2016 | Theater de Speeldoos Baarn
25-03-2016 | AgoraTheater Lelystad
02-04-2016 | Musis Sacrum / Schouwburg Arnhem
03-04-2016 | Cool Kunst En Cultuur
08-04-2016 | Stadsgehoorzaal Leiden
22-04-2016 | TivoliVredenburg
29-04-2016 | Cultuurhuis De Klinker
30-04-2016 | Agora Theater Druten
07-05-2016 | Jan van Besouw Goirle
14-05-2016 | Theater de Schalm
28-05-2016 | De Flint Theater
More Information at www.newyorkroundmidnight.nl
Last modified: July 15, 2018