Guitar virtuoso Maciek Pysz is pleased to announce a comprehensive 19 date tour of the UK in support of the upcoming release of his second album 'A Journey'. Joined by his long standing trio of Yuri Goloubev on bass and Asaf Sirkis on drums, the trio will take to the road from Nov. 4th through the 28th.
Recorded at Artesuono studio in Udine, Italy, 'A Journey' shows us that Maciek continues to raise his work to another dimension, reaching new heights stylistically, technically and emotionally. By using the eloquence and dance rhythms of a bandoneon and piano, Maciek describes his feelings about the people and places he encountered on his travels across Europe. He fell in love with the sound of the bandoneon instantly! This instrument contributes a magical atmosphere and something from another era to his music and provides a feeling of longing and nostalgia with which he identifies. Maciek's sound is warm, natural, and conversational, his style is unhurried. Audiences are captivated by his original compositions, the delicacy and beautiful phrasing, the passion and joyfulness of execution.
Maciek , who continues to receive rave reviews from critics and audiences, was very forthcoming with his thoughts on the upcoming tour. "I am thrilled to be returning to many cities I have performed before. I'm excited to take my music to smaller towns such as Ashburton where there is a thriving jazz community, and to the Fisher Theatre in Bungay with its high tech auditorium. In Taunton I play at the Creative Innovation Centre which is an enterprising non-profit company putting the arts at the centre of the local community. I know the acoustics of St John the Evangelist in Oxford will be just perfect for my music. I am delighted that Daniele di Bonaventura will be joining me for the album launch."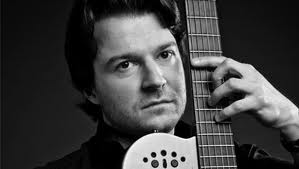 Since moving to the UK in 2003, this self-taught artist rapidly established his reputation, touring the USA and Europe with his own projects and as a sideman. Maciek has performed in reputable UK venues including: Ronnie Scott's, Pizza Express Jazz Club, The Forge, La Note Bleue, Blue Note Poznan, London Jazz Festival, Hull Jazz Festival and Ealing Jazz Festival. 'A Journey' will be launched at The Forge, London on 18 November 2015 during the EFG London Jazz Festival.
The November 2015 UK tour dates are:
4 Nov St John the Evangelist, Oxford
6 Nov Fleece Jazz, Stoke by Nayland
8 Nov Jazz East, Felixstowe
10 Nov St Ives Jazz Club, Cornwall
11 Nov Jazz at the Mall Pub Clifton Village, Bristol
12 Nov Cambridge Jazz, Cambridge
13 Nov Birmingham Jazz
14 Nov The Bear Club, Luton
17 Nov Brecon Jazz, Brecon
18 Nov The Forge, London Album Launch EFG London Jazz Festival feat. Daniele di Bonaventura
19 Nov Fisher Theatre, Bungay
20 Nov Oliver's Jazz Bar, London
21 Nov Jazz.Coop@The Globe, Newcastle
22 Nov Seven Arts, Leeds
24 Nov Dempsey's, Cardiff
25 Nov Queens Head, Monmouth
26 Nov Jazz Coventry, Coventry
27 Nov Creative Innovation Centre, Taunton
28 Nov St Lawrence Chapel, Ashburton
For more information: www.maciekpysz.com
Pre-Order Maciek's new Album here
Last modified: July 15, 2018