By: Rob Adams | Photos: Courtesy of the Artist.
Tom Green is a musician on a mission. The twenty-something London-based trombonist and bandleader feels that his chosen instruments gets a raw deal and he's determined to do something to rectify this.
"I feel it has been side-lined to quite an extent, particularly in small group jazz," says Green who studied at Cambridge University before going on to graduate from the Royal Academy of Music in London in 2013. "It almost seems as if people are scared of writing for it or maybe they don't know what to write for it, what its capabilities are, but it can be just as flexible as the trumpet or saxophone, which are seen as more sexy, I suppose. I'd like to see it come out of the big band section and be seen as a viable small group instrument because there are some great players out there who are showing that it can do everything that other instruments can do."
Green's primary vehicle for his own trombone playing is the septet that is currently on a Jazz Services-supported UK tour. As the winner of the 2013 Dankworth Prize for Jazz Composition, he has already been recognised for a style of writing that, with the trombone at the heart of a four-strong front line, creates an apparently bigger whole than the sum of its parts. Both Dame Cleo Laine and free improvisation giant Evan Parker – musicians who could be said to inhabit jazz's polar extremes – have praised Green's writing, and the warm sound he creates in his compositions is immediately evident on the septet's recently released debut album, Skyline.
Septets are relatively rare on the jazz touring circuit, trios and quartets being much more easily financed and organised. Having run a big band while at college, however, Green knew what he was taking on when he put the band together.
"I'm really influenced by orchestral arrangers like Gil Evans and Maria Schneider, right back to Duke Ellington, and I wanted to create as broad a sound as possible without taking sixteen people on the road," he says. "One instrument from each section, with an extra saxophone, gives, I think, the essence of the big band sound. I make them work pretty hard and we're all knackered after a gig but fortunately I've known all the guys for quite a long time and they're all committed to the band."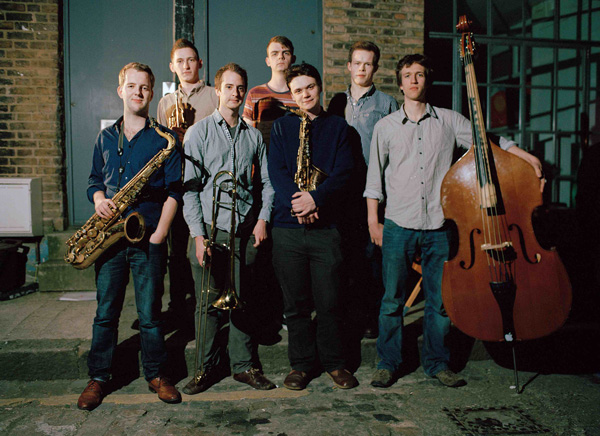 Green met most of the band, which includes Scottish saxophonist Matthew Herd, at college, but trumpeter James Davison and Green go further back, to when they were in youth orchestras together in Cambridge, and Davison can take some of the credit for his friend's trombone evangelism.
"I remember one of our parents was driving us to a rehearsal at school and James played me something by Bill Watrous, who is the master trombonist and makes a beautiful sound, in the car," says Green. "That was the light bulb moment when I really fell in love with the trombone."
Before that, Green had played violin from the age of four – his parents are both classical musicians and started him on the Suzuki method – and then piano from the age of seven. His piano teacher used to slip jazz tunes into lessons, so Green was already improvising when he took up trombone at eleven.
"It was all good background for what I'm doing now," says Green. "The Suzuki method is orally based, so you learn to play tunes by ear, which is helpful as an improviser, and the piano training is useful for harmony and arranging. At secondary school I played in brass quintets, as well as in jazz orchestras, and I really liked the brass chorales that we played in those groups. I think that's where some of the sounds we're creating in the septet come from, that lovely warm ensemble sound you don't normally get from one horn and a rhythm section."
As for the economics of taking seven musicians on the road, Green sees possibilities opening up for jazz generally that give him grounds for optimism.
"When we launched the album the other week, there was a much younger audience than you often see at jazz gigs," he says. "I get the sense that more young people are getting interested in the music through jazz being on the school curriculum down here and I think there's a market for what we're doing with the septet. It's a different sound we're presenting, compared to, say, a quartet and while it's great to be able to play around London, there's a big world out there and we want to take this music out to as much of it as possible."
Tour dates:
Eden Court, Inverness, February 20
Old Bridge Inn, Aviemore, February 21
Seven Arts, Leeds, February 22 (1:30pm)
Sproggits, Leeds, February 23 (8:30pm)
Schmazz @ the Jazz Café, Newcastle, February 24
Jazz at the Cask, Scarborough, February 25
Cambridge Modern Jazz Club @ Hidden Rooms, Cambridge, February 26
The Lescar, Sheffield, March 4
Matt & Phreds, Manchester, March 5
JATP Jazz @ Glyde House, Bradford, March 6
Symphony Hall Foyer, Birmingham, March 13 (5pm)
Fleece Jazz, Colchester, March 27
More Information www.tomgreen.org.uk
Last modified: July 15, 2018