By: Sammy Stein
Peter Brotzmann needs little in the way of introduction. For over 40 years he has been at the fore front of free jazz and continues to inspire players and audiences across the globe with his innovative performances, collaborating with the good, the great and the unknown to produce music which continues to develop in ways often unexpected by Peter himself. He tours relentlessly and records continuously, releasing live and studio music which covers a wealth of styles.
We met one dismal cold day outside Café Oto in London where Peter was ending a 3 day residency with percussionist Hamid Drake and bass player William Parker. Peter was outside enjoying a cigar and wrapped in a huge coat. Once inside we got our coffees and sat in the cosy, welcoming setting of Oto's interior.
Peter in person is warm and thoughtful. We talked about many things. I asked how the residency was going and he commented it was going well and it was nice to see so many ladies coming along. We spoke about audiences and he was pleased that younger people seemed to be coming to gigs now, especially in Europe but also increasingly in London.
Peter told me that when he was just 15, he made the journey to London with a school friend one summer. They went to a few gigs when they could get in and slept in the parks –it was summer so there was no problem with that. He saw many musicians and the trip had a profound effect on him. He remembered one time seeing this amazing musician playing and later found out it was Joe Harriot.
I asked about his son, Caspar who is a guitar player and Peter said he was doing well but found coming back to the music after a long gap difficult. Things change and it is not so easy to get gigs now but he is getting some. "Once," said Peter "it was relatively easy for young players to get gigs, but it is harder now than then and there are fewer places to start out. We used to be able to travel for weeks doing small gigs, just turning up more or less but now it is not so possible."
"Young people now come out of the conservertoires full of musical 'knowledge'. They can play scales, they know all the technicalities but sometimes they can't play. They need to get experience playing with others, learning and communicating. If you need to change what you want to express that is not a good thing I think. No you should never do that."
Down time for Peter is rare but he said he enjoyed having time at home. The next evening he was playing in Paris, then Japan and then he was looking forward to ten days at home just relaxing and catching up with everything.
Peter is animated when he talks and there is always a smile behind the serious messages. He invited me to come to the gig later on said he would put me on the door as it was sold out – I happily accepted.
Later, I returned to Oto for the gig and found Peter at the bar. We chatted and I found Terry Day, the jazz drummer, was there as well. The elegant figure of Hamid Drake wandered past and graced us with a grin. The gig was sold out and Oto was packed with people of all ages. Some had seen Peter play before whilst others were curious. The atmosphere was great, as it usually is at Oto.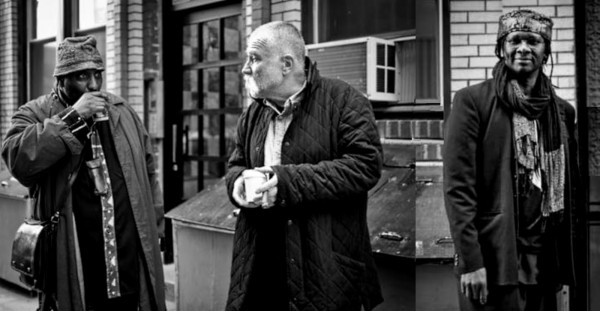 The musicians came to the stage and what followed was a lesson in communication, creativity and musicianship. The trio of William Parker on double bass, Hamid Drake on drums and Peter Brotzmann on reeds is truly wonderful to behold. There was noise, mesmeric beats and an energy to the performance which quickly spread beyond the stage to the listeners. The interaction between the musicians was sublime and there was a communication which needed no words. Brotzmann led much of the time with riffs, repeated themes and he altered the tempo, switching from demonic, driving playing , then introducing interludes of quiet, emotive playing during which there were short pauses in which you could have heard the proverbial pin drop. At other times Drake set the beat, his speed, precision and volume increasing as if driven by some rhythm loving demon before bringing it down to a steady, mesmeric rhythm. There were groovy, reggae/calypso beats developed at times around which the other players improvised, sharing the beat, throwing a theme back and forth between them like a game. While Peter changed reed or took a break the other two would set up theme between them, coercing each other, drum and bass throwing lines to each other, taking them and tossing them back. It was, said one listener, 'like watching a moving picture develop'.
The second set began with Drake playing a solo drum and singing. He has a beautiful voice and he set an atmosphere of calm before the others joined him, Parker now on a reed pipes and Brotzmann switching from alto to tenor to clarinet as the mood fit. Between changes Drake and Parker would set up mesmeric rhythms, sometimes with a reggae feel, sometimes simply playing off each other using random segues interweaving and trading themes until Brotzmann re-joined them on whatever instrument he chose.
Brotzmann is completely engaging. He plays with such energy and is completely absorbed in the creativity going on on stage. Listening to the trio, time disappears and the moment is just about the sound.
As I left the musicians were still playing, time forgotten by everyone as the audience remained glued to the spot. Brotzmann, Drake, Parker and Oto – simply the perfect combination.
Last modified: July 15, 2018