By:  Wojciech Oleksiak | Coutsey of: Culture.pl 
What's the first name that comes to mind when you hear the word 'Polish music'…? Chopin, right? He is the greatest, the most recognizable and the undisputed number 1 Polish representative on the time-line of music history. For many, he is not only the most important figure but also the most influential, which has resulted in a growing number of absolutely outstanding pianists who were born and raised in Poland.
It may be a matter of tradition, the education system, or just blind chance, but pianists really stand out as the strongest group of internationally acclaimed Polish musicians. In classical music, the influence of Chopin's legacy can be quite straightforward and is deeply rooted in the system of musical education. This phenomenon has been already explained by Filip Lech in his article published on Culture.pl
Finding an explanation for the considerable number of extraordinary pianists engaged in the wide spectrum of improvised music may seem less obvious but the tradition is as old as the existence of jazz in Polish music. One of the first jazz bandleaders known to jazz scholars was a pianist (Szymon Kataszek from Karasinski & Kataszek band). Several years after World War II, the significance of Polish jazz had been brought to a completely new level by one of the greatest jazz creators of all times – Krzysztof Komeda, not only a genius jazz pianist but also a popular composer of film scores (for example, Andrzej Wajda's Innocent Sorcerers, Roman Polanski's Rosemary's Baby or Knife in the Water and Henning Carlsen's Kattorna / Cats). His legacy and influence on the style of many present-day pianists is immense, and almost every year there is at least one remarkable album released that entirely pays tribute to Komeda's innovative and romanticist musical world.
The second half of the 20th century was just as full of great names and piano virtuosos, just to mention a few: Adam Makowicz, Andrzej Trzaskowski, Wojciech Karolak, Mieczyslaw Kosz and Wlodzimierz Nahorny. Their output, creativity and remarkably original recordings crafted a solid and colourful foundation for the upcoming generations. The result of this, as well as of Polish musicians always being 'eager to imbibe western culture, to learn from the diversity of world music and to stay tuned to the newest trends from all over the world', is that at the moment we have at least three active generations of world-class piano masters.
For more background on Polish jazz read: "A foreigners guide to Polish jazz"
Already Legends But Still Very Active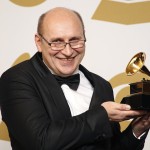 Most of the Polish jazz legends are still active as professional musicians. Wlodzimierz Nahorny, aged 73, runs his own band and gives solo recitals. He has devoted the past few years to working on Fantazja Polska / Polish Fantasy – a series of albums drawing inspiration from the compositions of the best-known Polish classical composers (Karol Szymanowski, Fryderyk Chopin, and Mieczyslaw Karlowicz). Adam Makowicz moved to the United States and then to Canada where he continues to explore the fusion of jazz and classical music and works as an educator. Meanwhile, in 2014, Wlodek Pawlik won a Grammy Award for his big band album with Randy Brecker titled Night In Calisia. Read More
Still young but already acclaimed and world-famous
The next generation has not been any less successful than their predecessors. In contrast to their older friends they started their career when the culturally suffocating communist regime collapsed and thus, grew artistically in a decisively different circumstances – free from political censorship but subject to the rules of the commercial music industry.
Leszek Mozdzer
He is indisputably one of the most stunning piano virtuosos alive today, and an artist with a voice so unique that he cannot be confused with anyone else. His romanticist and classical background made him grow from a renowned jazz sideman to the most recognizable Polish jazz personality, comparable only to Tomasz Stanko. His immense success, accompanied by his presence in the mainstream media, made him widely adored but also caused some controversy.
It is truly noteworthy that the decisive breakthrough in his career came completely out of blue. In 1997 he was invited to the Netherlands to record a couple of pieces for a piano solo using the most exquisite audiophile techniques. The album was recorded in an ex-monastery that was turned into a psychiatric hospital and left in the archives with no date scheduled for its publication. It wasn't released until 2004, and immediately became a shocking best-seller not only in the jazz genre but overall. Mozdzer cooperates with the crème de la crème of the jazz world's top league, most often with Lars Danielsson and Zohar Fresco, with whom he has recorded five albums.
Last modified: July 15, 2018