Michael Ricci, founder and owner of All About Jazz and Jazz Near You believes jazz musicians need more performance opportunities. So, from his headquarters just outside of Philadelphia, he's creating a network of affiliates around the world to host concerts in the intimate settings of their homes. 
Ricci will kick off the first Jazz Near You Home Concert at his own home in Lansdale on Friday, October 24, 2014 with Philadelphia based band, The Jost Project. Comprised of vibraphonist Tony Miceli, vocalist Paul Jost and bassist Kevin MacConnell–The Jost Project present innovative arrangements of classic rock performed in a jazz format with the goal of reaching new generations for jazz.
All About Jazz reaches over 500,000 monthly readers and its affiliate Jazz Near You has nearly 160,000 mailing list subscribers in over 250 cities worldwide. According to Ricci, "All About Jazz represents a 20 year-effort to promote jazz music online, and we furthered our mission by launching Jazz Near You–a powerful platform to help musicians freely promote their gigs to jazz fans across devices."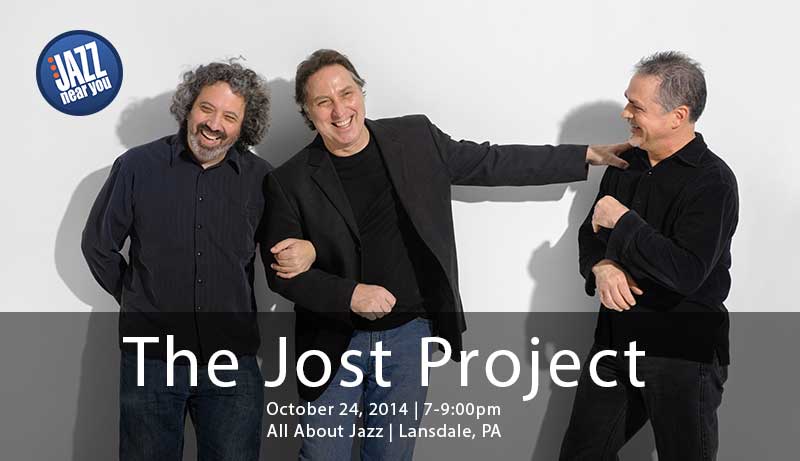 Ricci continues, "It's disappointing that jazz artists have so few venues to perform, which means less opportunities to earn a living. It's my opinion that the jazz demographic is a good fit for house concerts. Home venues ensure a comfortable, intimate setting, with good audiences. And there's the convenience factor that goes along with it. People don't have to travel far and parking is generally free."
This is just the beginning of a much larger project. Ricci explained, "Jazz Near You will collaborate with facilitators and create revenue opportunities for all involved. We can coordinate house concerts on an international scale by leveraging the Jazz Near You platform, and through our relationship with Closeup.fm, we can help support the house concert presenter by providing the ticketing platform, and by optimizing list placement at the Jazz Near You website and in the Jazz Near You weekly email newsletter."
Tickets for the first Jazz Near You Home Concert with The Jōst Project are $15 a person (BYOB).
Click Here to Purchase Tickets

 Once the ticket is purchased, the home address will be shared.
Last modified: July 15, 2018