If you've ever wondered where Swedes go to listen to the best live jazz the answer is simple : Fasching!
This Manhattan-style jazz club is a vibrant music hub where you will find happy music lovers of all ages and nationalities. The venue regularly welcomes international jazz stars and local heroes for sold-out gigs – despite the 600-people capacity Fasching gets crowded really quickly – and jam sessions that fill the club with top-class jazz, Latin rhythms and hip hop acts.
If you were to ask a local which of Stockholm's music venues is the best for some cool jazz, you can be sure that you would get the same answer over and over again: Fasching. Sweden's best spot for jazz and music since 1977, Fasching is a music club located in the heart of the city.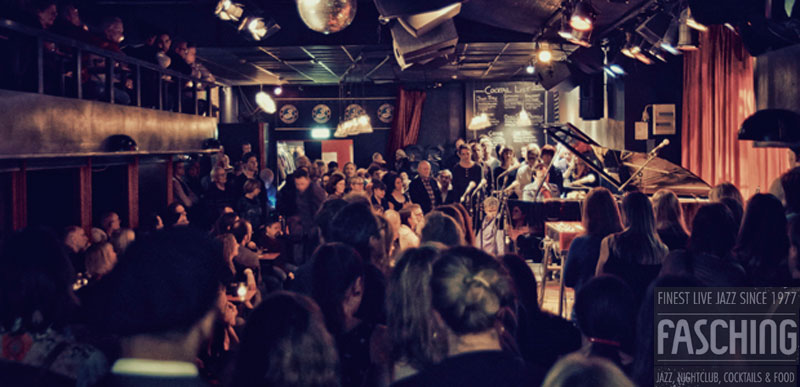 Fasching is not loved only by locals though. DownBeat Magazine, for example, included it in its list of the world's great jazz venues and wrote: "With local and national talents galore, this Blue Note-style club's forte is presenting folks like Robert Glasper, Gregory Porter and Christian McBride".
Over the years, Fasching has opened its doors to an incredible lineup filled with internationally-acclaimed performers. Artists such as Christian McBride, Joshua Redman, John Scofield, the Brecker Brothers, Zara McFarlane, Sonny Fortune, Snarky Puppy and the Sun Ra Arkestra. Local and Scandinavian acts are very much present in Fasching's schedule too.
Artists hailing from Norway – like Marius Neset, Torun Eriksen, Hanna Paulsberg – and Denmark – Carsten Dahl, Cæcilie Norby and many others – as well as members of the Swedish music scene like Magnus Lindgren, Lina Nyberg and Gunilla Törnfeldt. Fasching has been their first choice when performing in Stockholm.
And speaking of Swedish acts, every Monday Fasching hosts Jamkultur! These nights showcase concerts with unique formations, which are followed by open jam sessions. The carefully selected jamchef hand-picked from the cream of the Swedish jazz scene form the basis of Jamkultur, Stockholm's largest jams! To make these shows even more amazing, Fasching adopts Monday-friendly prices on food and drink. What's better than having a great time while saving a few bucks?
Cool Drinks, Delicious Food and the Stockholm Jazz Festival
Similarly to other jazz venues around the world, at Fasching, music is always at the center of attention. However, what would the world be without good food and drinks? Don't worry, because Fasching combines its live music with tasty food and a sophisticated bar.
In fact, Fasching offers an intimate environment where guests have a good view of the stage from their table.
During the week, the club and restaurant open at 7pm – with shows, two sets with a small break in between, from 8pm to 10pm – while on Fridays and Saturdays it welcomes patrons until midnight. Keep in mind that, on weekends, a small change-over with rearrangement of tables in front of the stage may take place.
The restaurant serves a selection of rustic homemade dishes for all tastes, while theGrammofonbaren – the Gramophone bar – offers all kinds of drinks. You will find a frequently updated drinks list that includes American and Swedish beer, plenty of alcohol-free beverages and cocktails. And if you're ready to have some fun, you can even take part in music quiz, cocktail competitions and other happenings.
In addition to its great all-round live jazz, cuisine and drinks, Fasching is also one of the venues that present the popular Stockholm Jazz Festival.
Established in 1980, this annual jazz happening – considered by many one of the oldest festivals in Sweden – welcomes world's renowned artists and Swedish acts for a few days in October. This year,  it will take place from 10th to 19th October, in variosu venues around the city, and it will feature critically-acclaimed stars like Wayne Shorter Jamie Cullum, Angélique Kidjo and José James, as well as Eliane Elias, Rigmor Gustafsson & Dalasinfoniettan and The Trondheim Jazz Orchestra feat. Sofia Jernberg.
Sweden loves its jazz and so does Fasching! Amazing performances, food, fun-filled events and the Stockholm Jazz Festival…it doesn't get better than this.
Venues Details
Fasching
Kungsgatan 63, Stockholm
Sweden
Last modified: July 15, 2018