Today marks the 100th anniversary of Sun Ra's arrival on earth.
While the above statement may seem to be a strange introduction for those unfamiliar with Sun Ra's work, it is fully appropriate in many ways. In the documentary "A Joyful Noise" (released in 1980) Ra started "… I don't consider myself as one of the humans, I'm a spiritual being myself,". In addition his biographer John Szwed recalls "He had a passport that said Saturn, It had no birth dates."
Sun Ra's eclectic music and unorthodox lifestyle gained him the reputation as one of the most controversial jazz musicians of all time. Ra landed in Birmingham, Alabama on the 22nd of may 1914. Not much is known of his early existence however in the early 1950s he had moved to Chicago where he worked as an arranger for jazz great Fletcher Henderson. From the mid-1950s until his departure from earth in 1993, Ra led "The Arkestra" , an ensemble with an ever-changing name and flexible line-up. Although the line-up changed regularly certain core members remained including Marshal Allen and John Gilmore.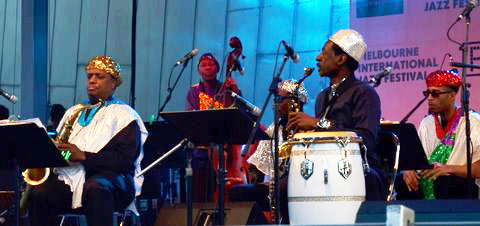 To celebrate the Sun Ra Centennial, the Arkestra, Directed by Marshall Allen (who also celebrates his 90th birthday in May) will debark on one of it's largest European Tours since Sun Ra left the planet in 1993. Full tour dates are listed below. Tonight in the Rote Fabrik in Zurich, Switzerland The Arkestra will perform the 100th anniversary concert. An experience not to be missed.
THE SUN RA CENTENNIAL ARKESTRA EUROPEAN TOUR – 2014
May 22nd. Zurich, Switzerland, Rote Fabrik
May 24th. Weinheim, Germany, Cafe Central
May 25th. Kassel, Germany, Theater Stubchen
May 26th. Berlin, Germany, A-Trane
May 29th. Barcelona, Spain, Primavera Sound Festival
May 31st. London, U.K. Barbican
June 1st. Porto, Portugal, Serralves Foundation
June 2nd. Lisbon, Portugal, B. Leza Club
June 4th. Copenhagen, Denmark, Jazzhouse
June 5th, Stockholm, Sweden, Fasching
June 6th., Gotenburg, Sweden, Nefertiti
June 7th., Moers, Germany, Moers Festival
June 8th., Diersbach, Austria, venue tba
June 10th., Regensburg, Germany, Jazzclub
June 11th., Nickelsdorf, Austria, Konfrontationen
June 12th., Vienna, Austria, Porgy & Bess
June 13th., Salzburg, Austria, Jazzit
June 15th., Amsterdam, The Netherlands, Paradiso
June 19th., Kamnik, Slovenia, Veronicas Tales Jazz Festival
June 23rd., Paris, France, New Morning
June 27th., Glastonbury, U.K., Festival of Contemporary Performing Acts
Last modified: July 15, 2018