New Jazz Focus Podcast – New Album Comments…
Show Notes:
Introduction:
Welcome to the New Jazz Focus Podcast Show. Firstly, I really appreciate all the physical submissions that I receive on behalf of Jazz in Europe. Coming from Individual artists, Jazz industry publicists and record labels – thank you so much. 
I've been in love with Jazz since childhood, listening with my Dad to his growing album collection, My Dad once shared some great advice  – "Never lose the joy of Jazz, by allowing yourself to become cynical or pompous about Jazz, and never wear this as a badge of honour, be humble and embrace the changes that Jazz music will always offer!"
My joy of Jazz music continues and I am constantly amazed as I listen to the depth, width, and the continuous evolution of Jazz. The mixes of historical roots melding with multiple interpretations from younger new artists as they develop and draw upon their environment and its influences. Thankfully, choosing to express via their inner creative well-spring…Presenting their vision of what Jazz is for them today and into the foreseeable future. 
Now – on with the show.
My thanks to Dave Stapleton at Edition Records for sending me this fabulous album to be released on CD and digital on October 25th and vinyl to follow on November 15th.
The album is titled: Activate Infinity which is the second album from The Bad Plus since the remarkable pianist Orrin Evans joined the trio back in 2018.  This trio of Reid Anderson, Bass, Orrin Evans, Piano, and Dave King, Drums have produced a vibrant and joyful 8 track album that feels very balanced, collaborative and I enjoyed the whole album. I have chosen track 8 called Love is the Answer.  Here is the purchase and pre-order link the album: Active Infinity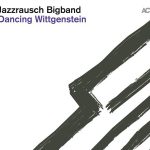 The next album is being released on October 25th through ACT Music – By Jazzrausch Bigband 'Dancing Wittgenstein'. A 40-piece acoustic techno-jazz in a big band format. I love the way they've created a new style that should delight jazz fans and excites dance addicts. They currently perform 120 concerts worldwide performing at the Lincoln Centre in New York, JZ Festival in Shanghai, Safaricom International in Nairobi. The list goes on. I choose the track 'I Wanna Be A Banana'. 9 minutes of a Jazz-funk style 12 bar blues. The lyrics and music are inspired by the child's answer to the boring adult question "what do you want to be,  when you grow up?" – "A banana!".
The final album for this time is 'Ray Blue – Work' sent to me by Jim Eigo over at JazzPromo Services. Ray Blues is a tenor saxophonist based in New York. This album is great straight-ahead jazz music with warm melodies.  Ray has a lovely deep tone with his sax playing and he has some of his own originals on this album. The one I picked was 'My Friend And I Took A Walk'
I hope you enjoyed the New Jazz Focus show, and of course, as always all the show notes and information for the artist's albums purchase links and artist websites will all be on www.JazzTalk.News podcast page – and you can also hear this podcast, others and new shows on Spotify, Google Podcast, Apple Music, and other Podcast services. 
This is Nigel J. saying thank you for popping in,  listening, and allowing me to spend some quality time with you within your busy life, and Getting Totally Jazzed with JazzTalk News. Need more? Why not check out our other episodes.
I look forward to sharing with you again soon… 
Why not check out the other podcast in this years  JazzTalk.News  series:
Last modified: November 10, 2019