New Jazz Focus Podcast – New Album Comments…
Show Notes:
Introduction:
Welcome to the New Jazz Focus Podcast Show. Firstly, I really appreciate all the physical submissions that I receive on behalf of Jazz in Europe. Coming from Individual artists, Jazz industry publicist and record labels – thank you so much. 
I've been in love with Jazz since childhood, listening with my Dad to his growing album collection, My Dad once shared some great advice  – "Never lose the joy of Jazz, by allowing yourself to become cynical or pompous about Jazz, and never wear this as a badge of honour, be humble and embrace the changes that Jazz music will always offer!"
My joy of Jazz music continues and I am constantly amazed as I listen to the depth, width, and the continuous evolution of Jazz. The mixes of historical roots melding with multiple interpretations from younger new artists as they develop and draw upon their environment and its influences. Thankfully, choosing to express via their inner creative well-spring…Presenting their vision of what Jazz is for them today and into the foreseeable future. 
Now – on with the show.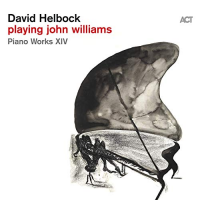 We start the show with an album by the Austrian pianist David Helbock playing the music of John Williams.  It was sent to me by ACT Records in Germany, and I appreciate it.
This is a solo piano studio album featuring the music by the multiple Oscar and grammy-winning American film producer and composer John Williams. Now that means that the album itself is composed entirely of solo piano music to interrupt the music of John Willimas. It's really being conveyed through the prism of jazz,  and the listeners Are ironically taken back to the film composers own jazz roots. Which is fascinating, and the theme throughout the whole album. Many people including myself may not have realised during the time John Williams was studying piano while attended the Juilliard school of music in New York played in jazz bars!
The Albums got to express that in some way and I think it does it well with this particular track which is my favourite and I'm going to play for you now… Moonlight from the film Sabrina.  
Album: David Helbock – Playing John Williams – ACT Records – ACT 9754-2 ( vinyl also) – Release date: August 30th, 2019
A shout goes out to Jim Eigo of Jazz  Promo Services in the USA for sending me the second album of mention on this show. this album is self-produced, it's called: Getting it There.  It's a lovely album, It's a quartet – Fabrizio Sciacca is a bassist, this is his debut album and there's a large tone of Swing Style in this album I really enjoyed it. Fabrizio is born in Italy as you would get from his name and he is now based in New York and has been there since 2015. This album has some well-known tracks.  The one I really like it's called for Sir Ron and is written by Fabrizio himself. There's a good reason for that, Fabrizio Sciacca considerers  Ron Carter to be one of his mentors. So he's dedicated this track to his Sir Ron, and I'm going to play it for you now.
Album: 'GETTIN IT THERE' –  Fabrizio Sciacca Quartet – (Self-produced)  – Release date: September 01, 2019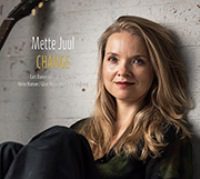 My thanks to Universal Music for sending me the new album titled: Change by Mette Juul. It's the final album for this time and it consists of very intimate solo, duo and trio sessions. the album was released on September 06th.  Interestingly this album Change was recorded partly in Juul's own home, and partly in New York and in Sweden. Mette Juul is not a newcomer to Jazz and she is internationally recognised and she's being critically acclaimed in the past for her previous releases. there was one in 2015,  which was called There is a Song And there was also Moon on My Shoulder back in 2012 featuring Blue Note trumpet player Ambrose Akinmusire. Forward to this new album Change – there are some really interesting tracks on it. The one that I particularly enjoyed was Juul's recording of Antonio Carlos Jobim's Double Rainbow – That's about opening one's eyes two nature's and maybe giving in to the pleasure and acceptance of the basic condition in life we call Change…
Album: Change – Mette Juul – Universal Music – Release date: September 06th, 2019.
I hope you enjoyed the new Jazz Focus show, and of course, as always all the show notes and information for the artist's albums purchase links and artist websites will all be on www.JazzTalk.News podcast page – and you can also hear this podcast, others and new shows on Spotify, Google Podcast, Apple Music, and other Podcast services. 
This is Nigel J. saying thank you for popping in,  listening, and allowing me to spend some quality time with you within your busy life, and Getting Totally Jazzed with JazzTalk News. Need more? Why not check out our other episodes.
I look forward to sharing with you again soon… 
Why not check out the other podcast in this years  JazzTalk.News  series:
Last modified: November 10, 2019