Nigel J. EiC @ JazzInEurope and producer at JazzTalk.News  – Nigel J. Interviews Kim Cypher his special guest in this podcast episode…

Show Notes, Bio, Upcoming Gig Info, and Social-Media Channels:
I was looking forward to chatting with her, asking questions about her early musical inspirations, hearing how an early childhood Christmas present humorously known as "The Potatoes" launched her love of the magic of sharing music,  meeting her "Man and Best friend",  and what's coming up in the second half of 2019.
Also, listen along as Kim gives inside details about three of the tracks off her new album and the special message lovingly expressed in the album title to both her current and future fans:  Love Kim x
I recount two of my favourite quotes from Jazz industry professional, and their praise of Kim, and I am adding one of my own.
With the Energy of Wonder Woman – This Lady is a Full-On Jazz Entertainer – Nigel J.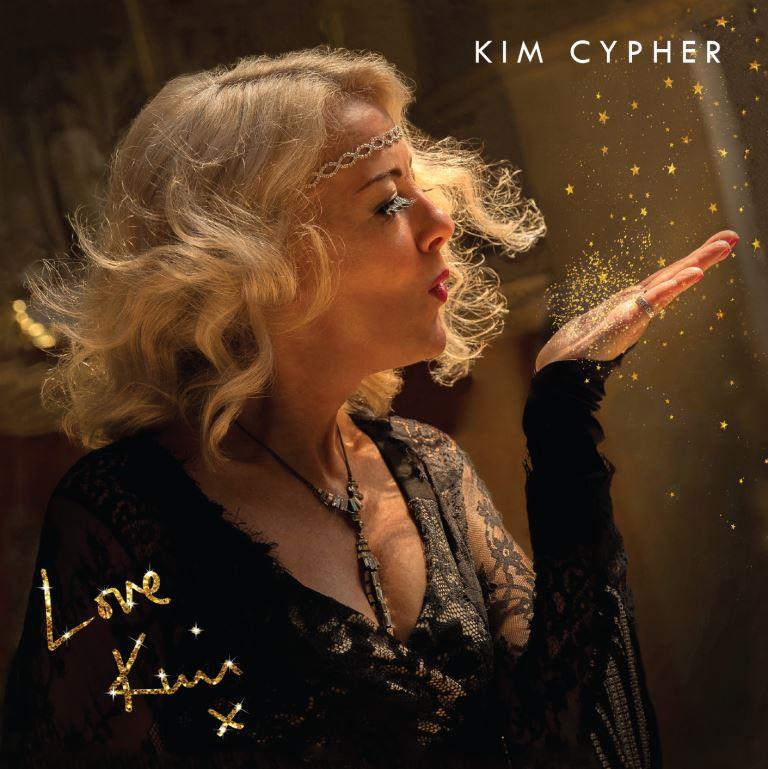 Kim Cypher continues to create quite a stir on the jazz scene, emerging as one of the UK's most exciting saxophonists, vocalists and composers.
Kim has developed her own unique 'funky' style of saxophone playing, built upon influences by great players such as Gerald Albright, Maceo Parker, Pee Wee Ellis, Andy Sheppard, Dean Fraser, Courtney Pine and Grover Washington.  Kim trained alongside American saxophonist Pee Wee Ellis (saxophonist with James Brown and Van Morrison) and internationally acclaimed jazz saxophonist Andy Sheppard.  Kim's vocal style has been influenced by the great Billie Holiday together with a wide range of vocalists/performers including Gunhild Carling, Imelda May, Caro Emerald and Liane Carroll.
Inspired by the funkier side of jazz, Kim's style of performance is best described as 'funky saxophonist meets 1940's, jazz singer'. Kim performs an eclectic mix of music spanning many genres with a quirky, jazzy twist together with her own original material, all packaged up in a captivating performance and warm stage presence.
Kim's latest album – 'Love Kim x' features some of the finest jazz musicians in the UK and overseas including Pee Wee Ellis, David Newton on piano (14 times winner of best pianist in the British Jazz Awards), Clive Morton on double bass (ex-tutor to Jamie Cullum and long-time sideman with Frank Sinatra and Stephane Grappelli), Alex Steele on piano, Chris Cobbson on guitar, Lee Jones on guitar, Tom Clarke-Hill on double bass, John-Paul Gard on Hammond organ, Karl Vanden Bossche on percussion, Mike Cypher on drums PLUS  New York guitarist B. D. Lenz and The Kentwood Show Choir directed by Sheila Harrod.
Kim was commissioned to perform a private event for the Prime Minister Theresa May in August 2017.
In 2016 Kim was flown to New York with her jazz quartet for a private jazz performance at The Glasshouses Manhattan.
Kim is an accomplished jazz vocalist and composer, having written many original songs that combine her saxophone playing and singing.
Kim has appeared on national TV and Radio and has recorded as a session musician on a variety of recordings as well as running her own bands.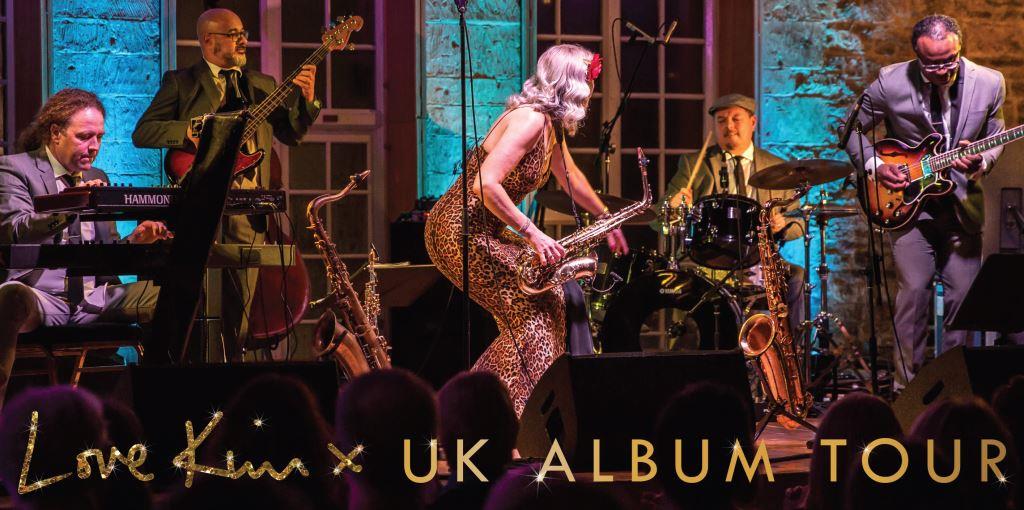 Upcoming Gig Info: 
The 'Love Kim x' UK Album Tour continues with some very exciting 'live' dates coming up plus more dates in the pipeline. A few highlights are listed below.
Saturday 3rd August – Stompin' On The Quomps Festival
Kim and her band are opening for this fabulous festival in Dorset with a great line up of musicians.
Friday 16th August – Pershore Jazz Festival
Kim has a return performance at this great local jazz festival,
Saturday 24th August – The Bull's Head Barnes
Kim says: "This is a personal highlight for me…performing at another legendary London Jazz venue". The Bull's Head is sometimes called the suburban Ronnie Scott's. Approaching its 58th anniversary, The Bull's Head offers world-class Jazz.
Friday 11th October – The Bonded Warehouse Stourbridge
Kim performs for the first time at this great venue.
Wednesday 4th December – Lichfield Arts
Another great venue and a festive tour special.
Saturday 1st February 2020 – The Good Shed Tetbury
A return visit after last year's sell-out show.
Sunday 17th May 2020 – Colchester Arts
Debut performance at this great venue.
Kim's Social Media Channels:
Kim's well-populated social media channels links below and don't forget to sign-up for her NewsLetter on her website: Kim Cypher NewsLetter
Spotify – Bandsintown – Facebook – Twitter – Instagram – YouTube
Why not check out the other podcast in this years  JazzTalk.News  series:
(JazzTalk.News uses the Photo by Jason Rosewell on Unsplash – as part of its logo design)
Great alternative:
Last modified: August 1, 2019