Carmela Rappazzo is a born story teller. She also has a lovely voice. I know both these things because she sang at the inaugural London Jazz Platform I curated back in June of 2017 where she was accompanied by the talented Marco Marconi on piano. Her last album 'Myths and Legends' won critical acclaim and now she is back with a new release called 'Howlin' At The Moon'.
I asked Carmela to tell me a little about this album and how it came about. Carmela told the story so well; I have left it to her to introduce the album. She says, 'You know I like to spin a good story (like I said, she does and then some). Here's some of the lowdown. My best pal, Margaret Whitton, was a movie and TV star in her younger days. She was outspoken and ballsy and knew everything a human can about baseball.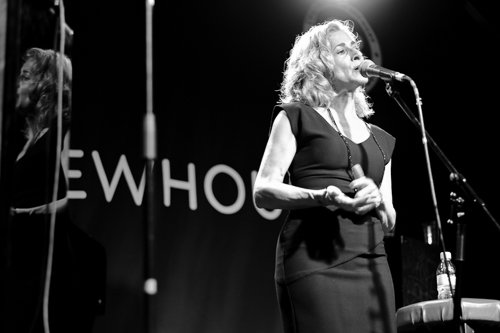 When she left acting behind she became a director, producer and humanitarian. She had food smuggled into the South Sudan where people are starving. She helped a lot of people and many artists, me included. It's been exactly one year since her memorial and a year and a half since she was diagnosed with cancer. She heard some of the roughs of these tunes as I was working on them and made me promise to record them, and some of the tunes are about her.
Stylistically all these tunes have been heavily influenced by New Orleans Music. It's under my skin. The album was recorded at The Ellis Marsalis Center For Music with some of the great young up and coming musicians and some of the seasoned musicians that have welcomed me into the scene here. It was recorded with all of us in the room (very crazy, I wouldn't suggest it).'
'Genie In A Bottle' opens the CD and it is a great opening track, appropriately named as it does indeed let the proverbial genie out, complete with musical wishes, which Carmela grants. Drum rolls herald the full introduction before the vocals come in with crystal clear lyrics and the tale begins – will the genie solve your life's problems? Will you be taken in? The story spinner weaves and melds, entices the listener in, gives them the run down and is helped by some wonderful guitar, trumpet and piano solos over the band who support strongly and maintain the sassy, upbeat rhythms. Some lovely Monk references in the piano line and rhythms give this some classic jazz references whilst the moral of the story is…well, the listener should make their own mind up but there is one. A wonderful number to open with.
'Keyhole' opens with a piano roll before we are led to the 'keyhole just under the handle in the door' and someone 'wondering how they got there, kneeling on the floor'. They are peeking and what they see unfurls in the lyrics. A tale of fetishism and sensuality, all told from the viewpoint of that tiny opening through which the peeker peeks – deliciously naughty and with a gorgeous sleazy, laid back strip-teasy solo from the trumpet of Steve Lands. There is power, a hint of consensual sensual torture and voyeurism here which is enticing and engaging. The delicate pauses in the vocal line add to the exquisite expectation. 'How did it get to this, an ache that runs to bliss?' Lovely, and the piano line is worth listening for alone. Of the song Carmela told me 'Yes, it is about fetishism, I read an article about it in the New Yorker and well, there we are'.
'Haunted' is a story of heartbreak and the story here is of past love, the questioning, dreaming and wondering why. The piano line is gently beautiful, as is the vocal line overlaid with emotion and that intuitive gift Carmela has of slightly holding some notes just a tad longer than others in order to add emotion and poignancy. Written by Carmela and accompanied by piano throughout with a beautifully overlaid solo from the trumpet of Steve Lands. The trumpet also plays its part in countering the sadness of the vocals as it plays in the background towards the final stages. Moving, emotive and evocative, this is a song from the heart.
Carmela says of 'Howlin' At The Moon', 'it is my attempt at a second line tune. Second line is when a brass band hits the streets. Plus things are so messy in the world these days, but here in NOLA we celebrate. Anything.' It opens with marching rhythms and a trombone line which evokes thoughts of street bands. It is about letting go, dusting off the chains which fetter us and getting into a bit of mischief, just 'howlin' at that big old moon'. The trombone solo is sassy, verging on the sleazy but just creeping above it. 'Welcome to hell, we'll be there soon. Where demons shriek, time for howlin' at the moon' we are told, and the finish is a single howl. – Fun.
'Rush of Heat' is a swingy, sassy little number with oh, so much of a story. It started out as a tune with a classic leaning worked out by piano player Oscar Rossignoli (honoured at the ASCAP foundation ceremony at Jazz at Lincoln centre), and developed from there into what is a lilting, gently swung number with just a hint of edginess. It features a wonderful sax interlude from Jeronne Amari Ansari (New Orleans Jazz Orchestra).  The piano solo has more than a touch of the Thelonius about it and is gorgeous. What is great about this track is the classical overtones infused with strong jazz rhythms and changes. A joy to hear.
'State of Grace' begins with Eastern influenced lutar, played by Moroccan musician Mahmoud Choki (Tim Williams, Juan Fallo and others), who recently moved to NOLA, over which the piano intercedes and takes the lead, followed by the sax and vocals. There is a lovely Eastern feel to this song, written in memory of Carmela's friend, Margaret. The lutar lends a light touch over the heavier bass and piano which collude to underpin the sound. The sax parts are beautiful and wail over the top like a lament, soaring to afford a spiritual essence to the music. 'Some deep feeling of sadness still kept you from that cherished goal', the lyrics tell us, 'I'll keep searching in this place, where I'll find your own sweet face in hallowed halls of memories, beauty meets state of grace'. A wonderful song.
Bernice Petkere and Joe Young's 'Lullaby of The Leaves' is the only cover on the album and this version is brilliant, beginning with bass and voice, the bass tuneful under the simple overline of the vocals. The whole band join, creating a bluesey, sexy, sassy feel and rhythm which is impossible not to absorb. Carmela is deep and sensual here and the sax solo emphasises the laid-back feel along with the stellar bass lines which evolve and develop over the length of the piece, dropping down at times before re-emerging in solos.  Carmela told me 'Bernice rocks, I hope I did her justice'. I think she can rest easy on that one.
'Revenge' is angry, a little spiteful and opens with piano riffles and runs over which the vocals enter, telling a tale of revenge served cold and the whirlwind of emotion is exposed here with the whole band adding little bits here and there. A nifty little trumpet solo, Armstrong-esque at one point, then piano adding its two penny-worth, everyone gets their oar in here whilst the vocals tell the story of unexpected revenge being taken. Carmela told me, 'I wrote this on one of Margaret's pianos and it has a little story of hers in it. Someone really did her wrong and she really got them back. As a Sicilian I love that'.
'Making My Way Back To You' is about a real life terrible journey. There is a train, rain, a missed plane, thunder, a tornado, the tale told over lovely contrapuntal rhythms in the music and a variety of changes, rhythmic additions and a gentleness which belies the mishaps going on in the lyrics.
Throughout this album Carmela draws on her huge wellspring of influences, from her New York background where she grew up in, 'a rather large and crazy Sicillian family' (her own words) with her father and 5 uncles being swing musicians, her theatrical connections, her Los Angeles big band experiences and her love of New Orleans where she now lives and imbibes the music like a sponge. This album is one of different colours, hues and tones. It has heartache, love and overall a deep, deep affection and understanding of the music that is jazz- influenced and the listening is so enjoyable. There are a lot of ear worms and little riffs which stick in the mind, yet there is enough textural depth and complexity to make the listening both interesting and connective. It is a sure bet the listener cannot but sing along or tap the feet to many of the songs and the lyrics in nearly every case are crystal clear. But then, Carmela, as she says herself, 'loves to spin a good story' – and she does.
Find out more about: Carmela Rappazzo – Direct buy link for: 'Howlin' At The Moon'
Personnel :
Carmela Rappazzo- vocals. Oscar Rossignoli – piano. Jasen Weaver – bass. Gerald T. Watkins Jr.- drums.  Steve Lands- trumpet. Jeronne Amari Ansari – sax.  Mark McGrain – Trombone on 'Keyhole', 'Howlin' At The Moon'. Steve Glenn – Tuba ' Howlin' At the Moon'.  Mark Carroll and Paul Sanchez – backing vocals on 'Howlin' At The Moon'. Mahmoud Choukri – Lutar on 'State of Grace'. Pete Snell – Guitar on 'Genie In A Bottle'.
Text: Sammy Stein
Photos: Ryan, Carmela Rappazzo – and (c) info: all rights go to original recording artist/owner/photographer(s)
Last modified: July 15, 2018