On March 30 1970 the jazz world was rocked with the release of Miles Davis's album Bitches Brew. The album proved to be a commercial success selling well over a million copies and giving Miles his first Gold & Platinum Records. The Album also won a Grammy Award for in 1971 for Best Large Jazz Ensemble Album and according to RIAA sales data is in the top 10 best selling jazz albums of all time. Produced by Teo Macero the album featured artists that went on to define the genre that became known as Jazz-Rock including Wayne Shorter, Bennie Maupin, Joe Zawinul, Chick Corea, John McLaughlin, Dave Holland, Lenny White, Jack DeJohnette and Billy Cobham to name just a few.
The album received mixed reviews on it's release. Jazz purists we're largely negative, while the contemporary rock press hailed it as a masterpiece of creativity.
There has been a great deal written about Bitches Brew over the years and now, almost 50 years since the albums release, I thought it interesting to take another look at Bitches Brew and the reactions it provoked as well as providing some links to an Interview by Nora Richie with Bernie Maupin who had a birds-eye view of the recording.
I've also included links to a great in-depth article by Miles Davis scholar Paul Tingen republished on the Jazz Times website.
The impact of this Album was seminal to the development of Jazz in the 1970's and it's force can still felt today. As journalist Michael Segell wrote in 1978, jazz was "considered commercially dead" by the 1960's until the album's success "opened the eyes of music-industry executives to the sales potential of jazz-oriented music".
Langdon Winner of Rolling Stone magazine, in one of the albums first major reviews wrote "The freedom which Miles makes available to his musicians is also there for the listener. If you haven't discovered it yet, all I can say is that Bitches' Brew is a marvelous place to start. This music is so rich in its form and substance that it permits and even encourages soaring flights of imagination by anyone who listens. If you want, you can experience it directly as a vast tapestry of sounds which envelop your whole being".
Village Voice critic Robert Christgau deemed it "good music that's very much like jazz and something like rock", naming it the year's best jazz album and Davis "jazzman of the year" in his ballot for Jazz & Pop magazine.
According to independent scholar Jane Garry, Bitches Brew defined and popularized the jazz fusion genre, also known as jazz-rock, but it was hated by a number of purists.
Infamous jazz critic Stanley Crouch (who was once fired by the Village Voice for throwing someone through a window) has never warmed to the seminal double LP, describing it as "Formless" and "The most brilliant sellout in the history of jazz" in a 1991 column for The New Republic.
Another jazz critic and producer Bob Rusch recalled, "this to me was not great Black music, but I cynically saw it as part and parcel of the commercial crap that was beginning to choke and bastardize the catalogs of such dependable companies as Blue Note and Prestige…. I hear it 'better' today because there is now so much music that is worse."
It was not only the critic's that were vocal as to the music contained on the album, Donald Fagen of Steely Dan fame described the album as ".. essentially just a big trash-out for Miles": "To me it was just silly, and out of tune, and bad. I couldn't listen to it." he went on to say "It sounded like [Davis] was trying for a funk record, and just picked the wrong guys."
A personal anecdote comes from my father, a huge Miles Davis fan who said after his first listen "Well, Jazz is now officially Dead" – A statement he later in life retracted saying he may have been rash in his commentary. While my Farther may be just one voice it was a sentiment shared by many jazz fans at the time. One thing for sure, the album did divide the jazz public firmly into two camps.
The album was controversial even prior to it's 1970 release. In a memo written in November of 1969 by producer Teo Macero to Columbia Records executives John Berg, Joe Agresti, Phyllis Mason asking for advice from up stairs, Macero wrote the following:
"Miles just called and said he wants this album to be titled: "BITCHES BREW" – Please advise."
One can only imagine the panic at CBS Headquarters. However needless to say the album was released title unchanged.
Teo Macero, author of the now famous memo remarked, "The word 'bitches,' you know, probably that was the first time a title like that was ever used. The title fit the music, the cover fit the music."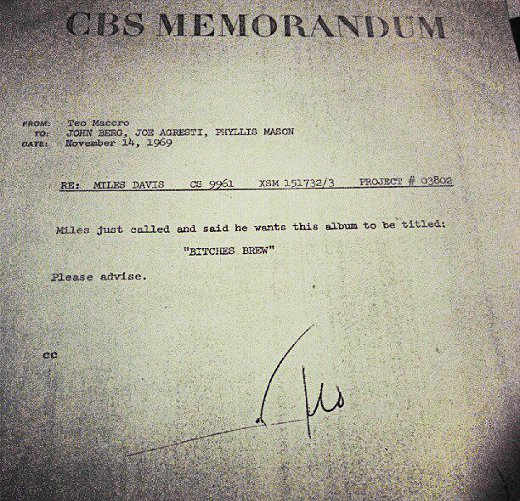 In July of 2017, Paul Tingen's 2001 article providing an extended analysis of the the making of Bitches Brew was published in full on the JazzTimes website. As a Miles Davis scholar and author of "Miles Beyond, The Electric Explorations of Miles Davis, 1967-1991 (View on Amazon), Tingen's article not only sheds light on the production process and puts the album fully into a historical context. It's a rather extensive article however it's worth setting aside the time to read. In the article Tingen said.
"The music on Bitches Brew is indeed provocative, and extraordinary. For Miles it meant a point of no return for the musical direction he had initiated with the recording of "Circle in the Round" in December of 1967. Until August of 1969 he had remained close enough to the jazz aesthetic and to jazz audiences to allow for a comfortable return into the jazz fold. But Bitches Brew's ferocity and power carried a momentum that was much harder to turn around. The hypnotic grooves, rooted in rock and African music, heralded a dramatic new musical universe that not only gained Miles a new audience, but also divided it into two groups-each side looking at this new music from totally different, and seemingly unbridgeable, perspectives. In the words of Quincy Troupe, these two groups were like "oil and water." Read the article here
A view from the inside.
In 2010, website The Revivalist published an interview by radio producer Nora Richie with Bass Clarinetist Bennie Maupin. Maupin played a prominent roll on the Bitches Brew album performing on all tracks. This interview gives an interesting glimpse into not only the back story to the recording sessions but also the impact that the album had on Maupin's career. We've reproduced the Introduction to the interview below, click the link to read the full Interview.
"The Revivalist is honored to present this very special interview with jazz legend Bennie Maupin. Maupin graciously took the time to share with us the amazing experience of working on the revolutionary album Bitches Brew 40 years after its release. Maupin, known for his brooding and atmospheric bass clarinet playing on Bitches Brew and his work on Head Hunters, has had a lifetime of experience in the jazz world. From first hearing Miles' "Paper Moon" on a jukebox when he was 14, Bennie was hypnotized by the deepness in Miles' playing and the emotion and beauty he created. Triggered by a few chance conversations and a strong work ethic, Maupin was able to break into the world of the jazz elite and play with countless incredible musicians throughout his career including Herbie Hancock, Wayne Shorter, John McLaughlin and more.
The thing that striked The Revivalist the most about Bennie Maupin, besides his extraordinary career and the intimate stories he shared with us, was his humbleness. After all that he's done, after all the gigs he's played, and all the albums he's played on that without a doubt revolutionized not just how we listen to jazz, but how we listen to music, Maupin himself can still barely believe he was fortunate enough to play on Bitches Brew. It's musicians of this caliber, both musically and spiritually, that bring us all back to what really matters; listening, playing and appreciating good music." Read the interview here.
Album Cover Art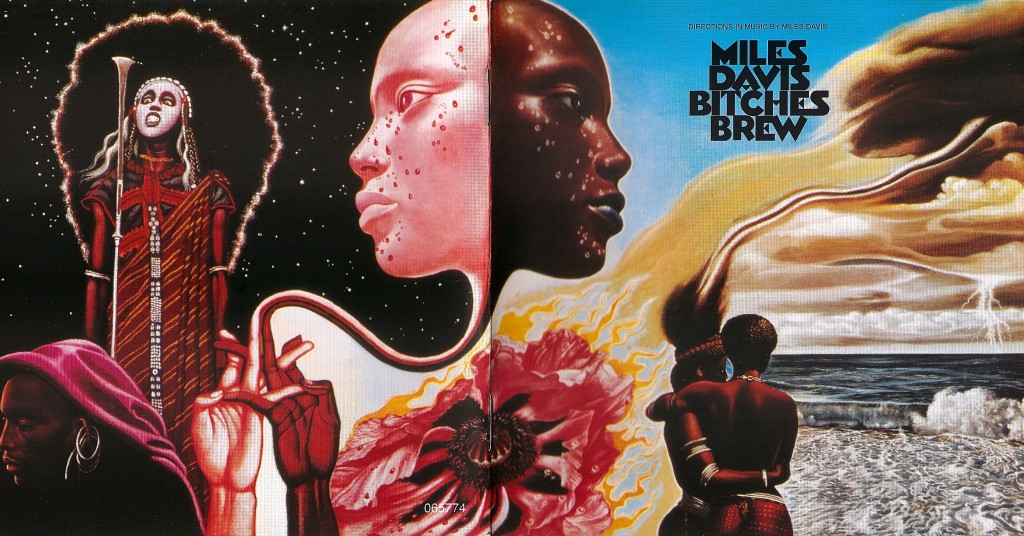 Richie's fascination with the Bitches Brew album obviously goes further than the music contained on it's two LP's. Two weeks after the publication of the interview with Bennie Maupin, the same platform published an article focusing on the albums cover art produced by Graphic Artist Mati Klarwein.
Richie states in the introduction to the article: "With perspective handed to us by time, Mati Klarwein's surrealistic rendering on the cover of Bitches Brew seems now to be an ideal, and perhaps, genius parallel to the revolutionary music contained within its sleeves. What would a faithful imagining of Miles' music look like in artistic form? How could an artist encapsulate the madness, genius and sheer creative ingenuity of a revolutionary album such as Bitches Brew in a single image? Klarwein's deep and swirling imagery, as challenging and complex as the album itself, did just that."
This is a very well written article and provides strong context to the time in which the Bitches Brew Album was released. You can read the article here.
Now almost 50 years after the release of Bitches Brew this album still holds pride of place as one of the most influential jazz recordings of all time.
Enjoy an exerpt of Bitches Brew recorded live at the Berkshire Music Center, Tanglewood, MA on August 18, 1970.
Line-up:
Miles Davis, Trumpet | Gary Bartz, Alto & Soprano Saxophones | Chick Corea, Electric Piano | Keith Jarrett, Organ | Dave Holland, Bass | Jack DeJohnette, Drums | Airto Moreira, Percussion
Last modified: July 15, 2018