As part of their 40 year celebration, The Blockheads have released a new CD. Their album of 2013, 'Same Horse, Different Jockey' was good but this album is much better, seeing the band stretch a bit more, varying the characteristics of the songs and arrangements and including some stellar solos. Mickey Gallagher told me:
"The tracks for the album were leisurely recorded throughout 2016 in our road tech's studio in Bedford whenever the band could get together amid their extracurricular activities. 3 days in February, 2 days in June and 2 days in November. All the initial recordings were laid down as a live band with a guide vocal, leaving only sax/backing vocals/and final vocal to overdub for noise separation purposes. Then, after a long period of perusal and debate, we committed to mixing and compiling the songs into an album format in April 2017. We released track 4, 'Hold Up' as a single download accompanied by a live studio and gig video of same on 1/11/17 and followed it with a special limited edition 7-inch vinyl on 14th November. The record has 'Hold Up' as the A side and a rare re-mix of track 8, 'Tear It Up' as the B side. The artwork for the project is by Kosmo Vinyl who worked as our PR and was Ian's confidante back in the day (he also worked with The Clash and left for the US in the mid-1980's). It seemed right to get him involved in a 40th anniversary album with the title."
"It's just great to have some new material to play and explore on live shows now and the band functions well as a well-oiled machine as you would expect after 40 years together. Derek's lyrics are inspired and observations poetically expressed are a delight to musically interpret. "
So, to the album. The first track, '268' is the perfect opener, full of all the characteristics associated with The Blockheads – a band as tight as a drum who read each other well -, underpinned with a funky, jazzy rhythm, emphasis on the off-beat and slightly heavy on the bass with short very sweet solos from sax, guitar and keys. Keyboard opens and sets the beat and rhythm which is picked up by the other musicians and the vocals of Derek Hussey tell the tale of a down at heel chap seeking love and thinking he has found it in the form of a woman he spies in the street and later on a bus. You can almost feel the cringing as he shouts, mumbles and puts the woman right off him by trying too hard, poor bloke. A tale indeed, as Mickey put it, 'of clumsy infatuation and misread signals.' Derek's vocals are slightly off-tune which suits the plot well as the fellow is seriously lacking polish and the contrast is effective over the perfect fluidity of the band behind him.
'Hillbilly Chopper' begins with a rhythmic (something), then guitar and strong bass before the piano leads and the band enter over whose musical scaffold Derek sings about travelling, a bike (the song was inspired by the making of a Blockhead motorbike engine by Harley Davidson) and getting rid of the cobwebs., 'Listen to her purr, well, ain't that sweet? She looks so pretty, let's hit the street!' sings Derek (I say 'sings' loosely) and 'back off, I want to get on my Harley'. This is fun, with great support rumbling steadily underneath the bonkers lyrics, especially from the tenor sax of Gilad Atzmon and the lovely, swinging guitar section. It is reminiscent of 'Itinerant Child' from a previous album recorded with Ian, 'Mr Love Pants' (1998).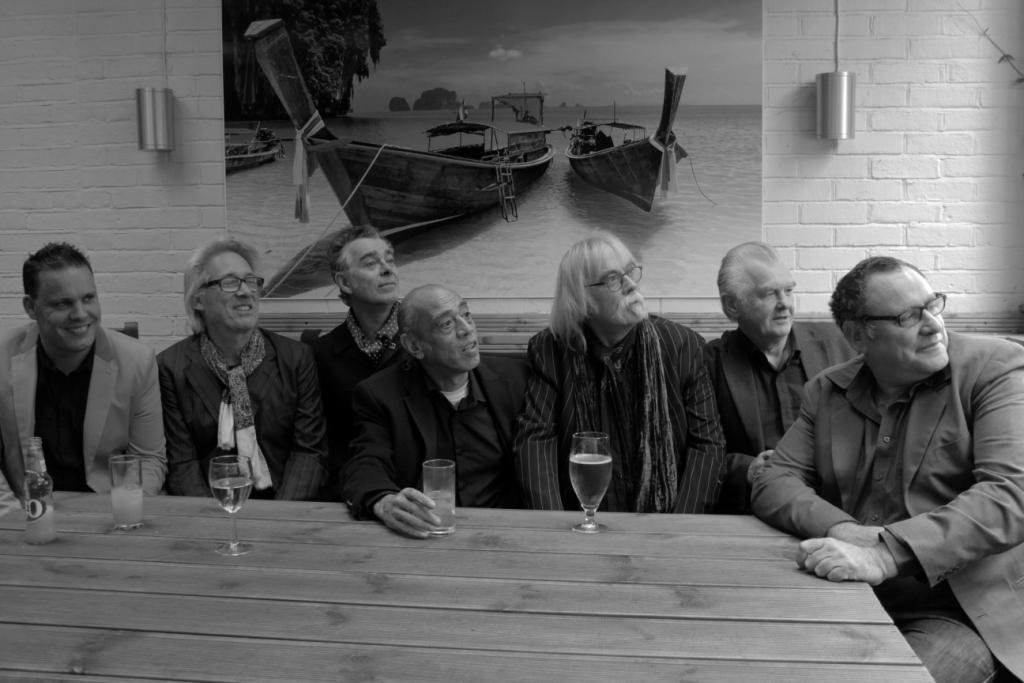 Hook Line and Sinker' is a bluesey, darker number, the atmosphere created and enhanced by the drums of John Roberts and the bass line with guitars over the top. Some sleazy, sliding keyboard moves enhance the darker side of the number and the atmosphere is deep, sensual and yet somehow there is still that pervasive tongue in cheek essence to the number, along with a touch of sassy bawdiness. Lovely.
'Hold Up' begins with such a groove, held and enhanced by the gorgeous bass line delivered by Norman Watt-Roy, which continuous right through. The vocals are fine on this, with great backing, the tuneful and true voice of Johnny Turnbull shining. This track is tight, together and so, so good. Well structured and with a great sax line which emerges towards the latter stages and develops into a delicious solo from Gilad, delivered as only he can.
'Fact or Fiction' is gorgeous from the start with steady, precise drums. The structure of this number is lighter but the vocals need the room as they are complex. Lots of facts delivered in pseudo-rap format from Derek, interspersed with sung sections, which, though stretching Derek's vocal prowess a little, work well here. The aim here apparently was to create a kind of nursery rhyme of real and dubious adages, tenets and knowledge by which we understand and explain events, according to Mickey. At times, though he has told me he never wanted to sound like Dury, Derek is so Dury-esque in his choice of words and delivery and the intonation, it is slightly unnerving.
'Head Above Water' is started by guitar and then drums before the vocals tell a doom and gloom tale of poor communication, a foreboding foretelling of the fortunes of the future which is depressing in some ways, 'How do you stop your soul from sinking, how do you keep yourself aware, it's hard to stop your mind from thinking, you're drowning in a gloop of despair' we are told, ' billions of consumers, if you choose to read the rumours, all with their snouts in the trough ( pig-like snort)' . The sax solo from Dave Lewis (Dave Lewis' 1 Up, John Martyn,) is very cool and speaks in the background before gaining traction to soar above the band.
'Don't Put Off Til Tomorrow' is a contrast and totally beautiful. "A positive anthem to clear thinking" according to Mickey.  It starts like a stylised version of 'Over The Rainbow' by Israel 'IZ' Kamakawiwo'ole. Gorgeous, in-tune, soft vocals over open fret guitar and a beautiful lilting island rhythm.  Derek's lyrics then tell of the dangers of not acting when the time is right, 'the odds are stacked against you, it's time to rub the writing off the wall, then sort it out the way you want to, try to grab the rope before you fall'. The backing vocals offer delicate, contrasting harmonious interludes under Derek's vocal lead and there is a lot going on in the background on this track with guitar, percussion and the stellar bass of Mr Watt-Roy. The final section is lovely with the whole band offering vocals and a surge of total togetherness. A truly lovely track.
'Tear It Up' "An English grammar rant with a message", according to Mickey again, starts with guitar, then second guitar and keys whilst the music builds to create the mood and rhythm. The vocals then talk about writing, the ups and downs and potentials of a writer tearing up different ideas, trying them out and discarding them (I think). The power of the pen is present here – both in the lyrics and the delivery. There is one part where you can almost imagine their erstwhile front man re-incarnate, particularly with certain pronunciation (ink pot, paper), but then, Derek was Ian's friend and companion for many years so it is not surprising.
'That's Why I am Blue' is deep, murky and well……blue. Derek delivers some beautiful vocals and lyrics on this track, the resonance in his deep notes is very engaging. There is a soulfulness and emotion in this track which pervades; it is simply lovely. The guitar soars, pulling the feelings out and up, the gentle sax interspersed to set up the sad vocals again. Sad, deep but totally delicious.
'Will O The Wisp' is a previously un-released Dury/Jankel composition, revisited for the 40th anniversary and is announced by 2 thumping bass and drum pounds and before the song develops into a ballad, sweet and deftly delivered with a sense of the ridiculous, which is enough to make you wonder if they are tongue in cheek. You may ask how they go from, 'let the love that exists at the time of your life be a love that stays with you forever' to, 'for your cockles are warm and your muscles are mild and they'll never conspire to defeat you'. But what the heck, the arrangement on this track is beautiful with soaring soprano sax from Gilad which tugs the heart strings and you can forgive anything, but anything.
With all the tracks, there is continuous and strong support underlying the vocals, the lyrics and story telling providing the pivot around which the musical arrangements swing. The rhythm and atmosphere are set by the band mostly from the start and Derek's vocals and lyrics neatly emphasise the ideas. On the surface the band have changed much over the years, and here demonstrate their ability to offer up swinging, rocky, crunching numbers alongside delicate, gentle emotive ones. Yet somehow in spite of the changes, their essence remains the same because there is a definitive Blockheads characteristic, little of which has been lost whilst much has been developed. Gilad's playing is less raw, less free than the previous sax player but, he brings something different; something else which is engaging in a different way.
Stalwarts Norman Watt Roy, Johnny Turnbull, Mickey Gallagher and Chaz Jankel have never lost their tightness when they play together. Dury without the Blockheads found himself somewhat at sea but The Blockheads without Dury have proved, even though he was a tombstone loss that they can change, develop and deliver music which does not rely simply on the strong presence that was Dury. Derek Hussey is a less flamboyant front man and once told me there was never any thought on his part to 'take Ian's place' when he took over the vocal front man job- and he doesn't. Derek brings his own persona to the role, though there is enough similarity to inspire memories of Dury, which, as the title of the CD suggests, is perhaps the point.
Norman Watt-Roy – bass/backing vocals  – Mick Gallagher – keys/backing vocals
John Turnbull- guitar/ backing vocals – Chaz Jankel – guitar/keys/backing vocals
Derek Hussey – lead vocals – John Roberts- drums
Gilad Atzmon – saxes/woodwind – Dave Lewis – Sax on ' Head Above Water'
Additional backing vocals 'Don't Put It Off 'Til Tomorrow' – Phil Jones, Sandra Morgan ,Frank Hopping.
(Additional backing vocals were pledgers on Indiegogo)
The bLOCKHEADS new album  and information
Text: Sammy Stein – YT Video: Free Seed Films
Main feature image credits include: Tammy Lynn – and (c) info: all rights go to original recording artist/owner/photographer(s).
Sidebar Images: Blockhead Discography
Last modified: July 15, 2018