The NJE (Near Jazz Experience) are Terry Edwards, on brass/woodwind, Mark Bedford on bass and Simon Charterton on drums. 
Terry plays trumpet, flugelhorn, saxes, guitar and keys and was a founding member of The Higsons. He has played with many musicians as a session musician, band member or collaborator and his own projects. His collaborations include PJ Harvey, Tindersticks, Gallon Drunk, The Blockheads and BUtterfield 8. Mark Bedford played with The Invaders – later to morph into Madness- and co-wrote some of their material. He has also played with Elvis Costello, Robert Wyatt and BUtterfield 8. He is part of The Lee Thompson (also of Madness) Ska Orchestra. Simon Charterton has played with Alex Harvey, The Higsons and currently has 2 bands, The Aftershave and Simon & The Pope.. According to Terry Edwards, NJE originally intended to play purely as a live ensemble, making a CD was not on their agenda. However, people wanted them to record and so they did. We are glad of it too. 
This is a creative and interesting CD. There is experimentation bringing together many different elements and it works a treat. The finished product contains ingredients taken from mainly their huge jazz/rock-based repertoire but there are added soupcons of flavourings in the form of a pinch of the slightly warped jazz references of the likes of Dolphy, Kirk and even Ayler, a smidgeon of electronica and a good ladle of funky, ska-directed beats with just a lingering taste of straightforward poppiness, all cooked up together and delivered in the tasty package that is NJE.
After listening to the CD for the first time I spoke to Terry Edwards via Skype whilst he was in the US touring with PJ Harvey and he filled me in on a few details regarding the CD. The opening track 'St Leonard's Suite', is named after St Leonard's On Sea where Simon Charterton resides when not being musically spontaneous. The electronic intro from guest Alexis Taylor and vocals sounding like a mis-directed 'phone conversation are soon usurped by a simple theme and some percussive interjections over which the horn of Terry Edwards plays its own slightly counter-reflective theme. The rhythm changes and from the half way mark in this 10 minutes episode we are taken on a delightful journey, led by the horn, perfectly off-set by funkastic bass work and drums and everyone takes a turn on different interludes at setting their own rhythmic pattern. There is a section with a thunking beat over which the brass and wood rise which is mesmeric. The bass is ahead, no, the drums, no the horn, no altogether, entwined by the beat and driving rhythmic pattern which once set never lets up underneath it all. ' Diamonds For Breakfast' is bonkers – rhythms playing catch me if you can with each other from the start and the double horns (played together or edited, who knows) again lead with a definitive rhythmic theme before soaring away on a free blowing journey over the top, whilst the rhythm of the drums and bass become incessantly heavier and more insistent. The horns fade to leave space for the drums solo and Simon Charterton delivers something of a gem to close.
'Songo' is funky with a well developed theme which the sax relishes in and then takes off into the land of gentle improvisational deviation in the best manner whilst never losing sight of the theme. 'Afloat' is announced by bass over which trumpet sings, soars and plays out a desolate, melancholic melody, delivered with absolute attention to emotive fades and surges. The bass line is interesting, travelling down and around, finding the missing scale notes and seeing they don't get forgotten. This is short but incredibly emotive and intriguing with the rhythmic change before the second third which detracts nothing from the effect. A lovely track.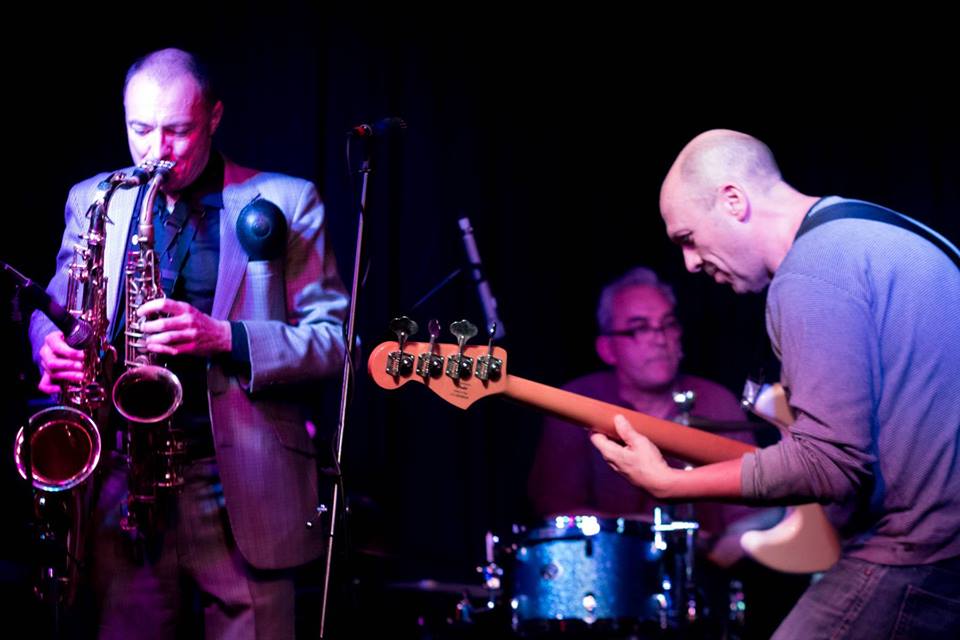 'Bongo Cut Ups' is short, sharp, intrinsically cute and very sweet . An ode to funkiness, this contains in just 2 minutes, many elements from indistinct electronically enhanced vocals to deep groovy bass lines and percussive interest. ' St Mary's Suite' is interesting. Terry told me it was named after St Mary's which is an old district of Whitechapel (where he lives with a rather gorgeous looking cat named Raoul). NJE used to play at a pub called The Indo which is opposite a mosque, once the site of a now disused tube station called St Mary's. The station was bombed in World War 11 and closed but few people know of its existence – until now of course. The track begins with electronic voice counting off numbers before the bass and drums introduce the theme and rhythm and the piece develops to include various references and sound developments, from harmonic layers to one part where the trumpet does its very own thing, rapid notes followed by an ear-numbing blast before some delicious nuances from the horn of Terry Edwards. Sooth, raspy, then cut to sax and then to everyone in for the ride – near perfection in delivery and the live feel is enhanced by the voices which can be heard under some of the cuts. There is a section where Terry's sax speaks out loud and proud over the drums which then announce their own presence over a deeply funky rhythm from drums followed by saxes again, a bass led part and then back to saxes soaring like a banshee over the top of the steadfast and completely contrary rhythm section. Three sections slotted together in the editing but nevertheless creating both a oneness and disparity in this suite which is both cohesive and disconcerting at the same time so it challenges. The sax is impressive, commanding and totally wondrous and the Ayleresque journey into the familiar theme from 'Knife Edge' (later) in the final section before it devolves into just on the verge of chaos is clever and fun. And we end with bird song over drums and a complete freefall! Completely beautiful.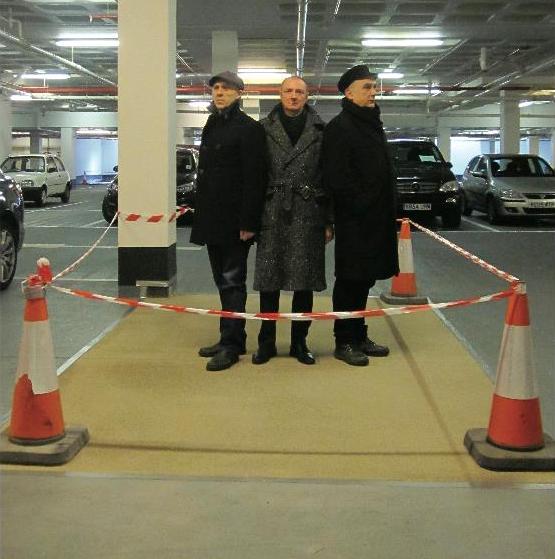 Beachcomber' is something of a gentler track with an atmospheric introduction complete with waves from the cymbals and the keys on this one all point to a place of calm and refuge. It is followed by the NJE version of Hendrix's ' Voodoo Child' which introduces itself with a short clicky percussive riff before the saxes and bass join to drive this track forward – and driven it is. Funkiness, jazzy swing and mesmeric saxophone soaring over the top, which just gets better and better as the track evolves. The sax on this track shows just why Terry Edwards has come to the fore as one of the UK's most versatile and dexterous saxophone players. A good track anyhow and one which Hendrix himself only really let the theme through in early recordings like Stockholm in 1969 but here in one track the melody is given centre stage and yet Terry Edwards also manages to get loose tongued, let rip free playing seamlessly alongside note perfect thematic playing over drums and bass lines which are taught, tense and supportive.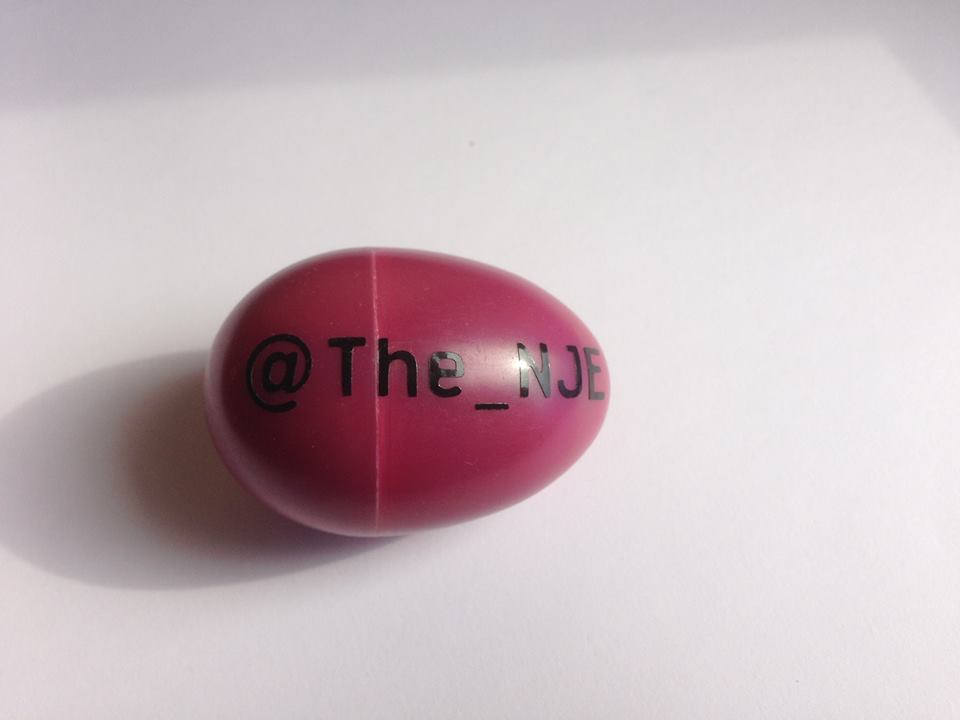 'Acoustic Pt 1&2' is lighter to begin with at least but soon Terry is taken by the muse and develops the sax part into something extra. The drums on this track are excellent, and the solo sublime. Throughout they are perfectly timed as a foil to the playful themes which the sax develops and runs with, taking them gleefully all over the place in tuneful and glissando exploration in conversation with the bass. 'Knife Edge' is simply glorious with the theme established from the start but then, what Terry Edwards does with it is simply extraordinary and includes some sax riffs played with such loose, reedy toned sharpness that could cut glass. Yet, it follows enough of a chordal progression you almost know where it is going even when the free blowing sections are interjected there because the musicality is intrinsic. The highlight track of the album if forced to choose, for the way complete organised chaos is expertly delivered around the theme. Totally wonderful. The final track is ' We Three Kings! and yes, it is a play on the familiar carol, for a while anyhow and then it takes on another life which ends up very little to do with the carol apart from the key and basic chords.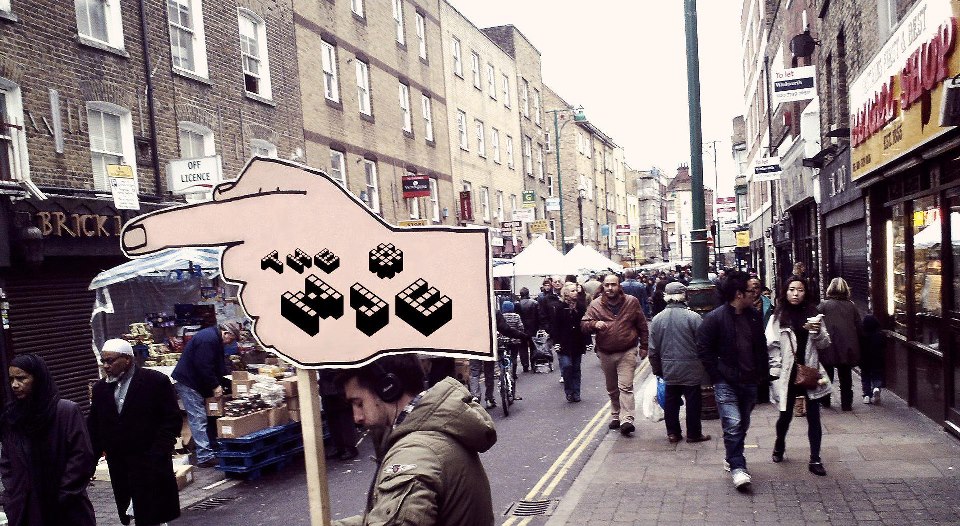 Some pretty sharp editing has gone into the tracks and I if I am honest I could have done without the electronica voices on one or two tracks but it takes nothing away from the sense of energetic and frenetic enjoyment of the musicians. You can hear the influences of Madness, Blockheads and 80s rock with a hefty jazz-based influence and you can relate to the essences which have also influenced many other great outfits like Moon Hooch, Binker and Moses and fellow young players yet NJE virtually illuminate the path along which others may follow, diverging as they will. There is familiarity in the style of Terry Edward's playing and the drum delivery of Simon Charterton but it is just that, familiar without being boring. Rather, it touches a comforting place in the brain from whence you just know so any good tracks come and there is a difference between playing and feeling music which this ensemble get across par excellence. Here, many of the essences of the great music come to the fore and you touch them as you listen, each one a familiar echo of something you once heard and loved. Somehow NJE take many of those elements and present them as a cohesive whole, making this album a must play.
The only drawback to this music is there is no putting it on whilst you do a bit of writing or anything else. Time and again it completely distracts, entrances and totally engages. Sublime music, delivered direct from all the players.
Terry told me NJE ever intended to make a CD but they did so because people seemed to like what they did and wanted a CD. My reaction after hearing this is more power to the people. First class musicians delivering first class music. What's not to love?  
Text: Sammy Stein
Images: The NJE Facebook & Shelley
YT Video: Terry Edwards
THE NJE
Afloat
Format: CD/DL
Cat No: FIT066CD
Dist: CARGO
Release date: 1 September 2017
Airplay: 'Voodoo Child' (track 8)
Website http://thenje.co.uk
Facebook https://www.facebook.com/NearJazzExperience/
Twitter http://www.twitter.com/The_NJE
Last modified: July 15, 2018