Marco Marconi is a pianist whose music expresses influences and deliberate nods to many genres, from classical to jazz to pop with many in between categories known only to Marco and this, from the start gains him points because the appeal of this extraordinary player is broad.  
I reviewed Marco's last album, Nordik (33JazzRecords 2015) and felt there was something quite special in Marco's playing. At the time he was not doing anything that different, his delivery was not exceptional, though it was great, and the music was unique in the sense that a lot of players have their own expressions and style. Now, however, something has changed and Marco has taken the delivery of music designed to entertain and intrigue up a gear. With Trialogue, Marco delivers something not only unique but also stunning. I spoke to Marco about the difference between Nordik and Trialogue and he commented, " Nordik was a really good album, which received many good reviews and sold a good number of copies so I am happy with the result I achieved and obviously every time you do a new album you want to improve compared to the previous one you know? To improve Nordik (I am talking jazz-wise) was very challenging and Trialogue is different. Why? I think this is because in the three years since 'Nordik' my brain got many more and different inputs. " Honestly, I thought Nordik was one of the best piano CDs of that year and I know it got very decent reviews but how do you top Nordik with its soundscapes, paintings in music and subtleties of atmospheric nuances? The answer is currently playing on my CD player – Trialogue.
Trialogue is a surprise from the outset – and a pleasant one at that.  For those familiar with Nordik –  Marco's outstanding debut  CD for 33Jazz Records, you may remember the music-scribed vistas, sound painted scenes, created atmospheres of bare rock, cold mornings and stunning landscapes etched around musical arrangements interspersed with subtlety and precocious playing. 'Trialogue' is a completely different album yet also unique and special in its own way. Carefully considered choices, arrangements designed around the keys and range of the piano, yet generous to the other instruments as well, demonstrating an understanding of the way they add their textures and nuances.  'Nordik' painted using the music as the brushstrokes.  It hinted at and developed atmospheres and gently caressed with subtleties. 'Trialogue' is more of a narrative with shouts, whispers, gentle cajoling and a joyful spirit which permeates the entire CD; more of an entire conversation.  It is a CD which holds surprises amongst the gems and has been created by someone who is very happy in his music.
There are some gorgeous bluesy bass waves and shattering drum solos but the whole thing weaves together to create an ear-candy fest and yes, I liked it.
Trialogue means a dialogue between three people, in this case, 3 musicians and a very apt title.
I met Marco Marconi recently and watched him whilst he listened intently to performers Nick Shankland and Kitty La roar, giving his full attention, almost oblivious to anything going on around, his eyes fixed on Nick's left hand working the bass box whilst his right played the piano keyboard. Music has a powerful effect on this musician.
Marco's attention to detail is what makes him outstanding. There are, if you listen, little notes filling in gaps, sometimes creating a sound which is almost, just almost a bit too busy because the ear can't pick up the nuances held in the music as fast as Marco delivers them at times but the genius is precisely in this attentive pendency and what makes it special because each listen reveals another texture, colour or layer. That, for me, is the sea change which makes some music special. There is that care for the listener, an offering of the musician to such an extent that every time you listen another gift is revealed.
Marco is still developing in his music even though he has played for much of his life and he is a very natural musician. His explorative interpretations of even familiar tunes make them change, morph into something a bit different, a little sweeter and a lot more complex than the original in many cases. If you are a musician, you hear the changes and subtleties and if you are not musical you still hear them and this – this ability to engage across the board is the craft of the art. A couple of years back, someone who had heard Marco told me, ' It sounds like he swallowed a jazz book' and to some extent that was true then.  He was a growing talent, someone who was classically trained delving into jazz, loving it and determined to grow in the genre. At that time, he was, literally, absorbing all he could and learning, changing, tweaking. Now he truly has grown as a jazz player and I am betting that same guy, when he hears Trialogue would say Marco has not only absorbed the book – he bloody re-wrote it.
The opening track starts with a flourish and is a beautiful arrangement of Rossi/Testoni's 'Amore Baciami'. This popular composition has been interpreted by many including the wonderful Larry Franco and performed with or without vocals but Marco takes the theme and interprets it with twists, turns and somersaults, relishing in the range the piece offers and squeezing every last note out of any gaps, stops or breaths. Fast but in no way furious, this is fun, light and there is a lovely double bass solo included whilst the drums are intense and just slightly manic in the background. This track is only just under 3 minutes long but so much variety is included you wonder just how it is done. The second track is Bricusse/Newley's 'Pure Imagination' and again, Marconi takes the theme and delivers it in very much his own style. Piano and percussion introduce the theme, which is worked out and up with ever increasing depth and layers. What really works here is how the percussion and bass are used in the first part of the developing theme. They work away under the piano, creating their own off-side patterns before coming back to support the main theme, which is arranged in 5/4 time, as Marco says, " to create a particular atmosphere which I couldn't do if it was in a classical 4/4″.  Very clever and there is a short but very sweet counter-rhythmic section slotted in roughly half way through which makes you prick up your ears and really tune in to what the trio are doing.  The improvisation and interpretation of the theme are absolutely gorgeous and a lot of playing with the time is going on here which is interesting. Just when you feel the track can't do any more, it delivers one final surprise and the last section is beautiful with drums rolling down to bass picking up the rhythm with piano still playing the theme.  Complete enjoyment.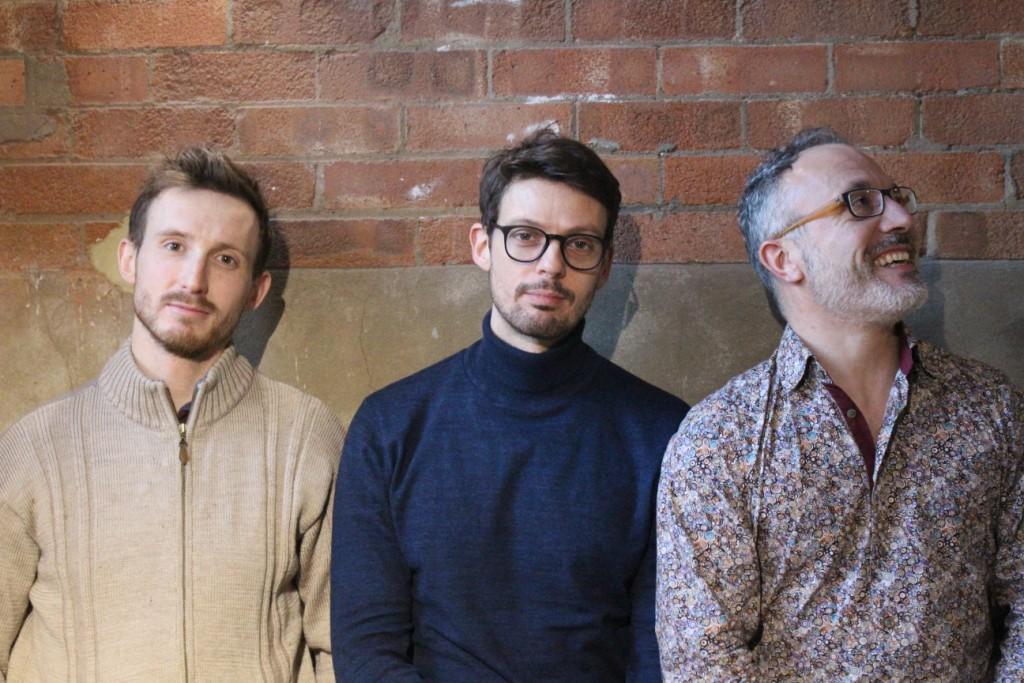 ' Vamos Azucar' is a Marconi composition and sets off with an Eastern theme, bedeviled with a hint of darkness and madness which is very engaging. A Latino beat develops in the percussion with the piano swinging gallantly over the top and just after halfway everything changes with a dynamic and interruptive conversation carried on with percussion and piano. I say interruptive because the rhythmic cadences are so tight they almost fall into each other. Clever and imaginative.
'I Love You Both' is another Marco composition and on a lighter note. It is dedicated to Marco's wife and daughter. The swingy, gentle sashaying beat gives way, as you know it will by now, as Marco never remains static in his music, to a change of essence and a subtle yet emphatic delivery of a differing theme after the half way mark. What is interesting here is the bass line. From walking to chordate, it supports the theme and the twinkling of Marco's playing intuitively and there is a place where the piano stops and the bass simply steps forward to have its own conversation with the piano.  This is a lovely piece with a well-developed theme and structure.
' Bach Praeludium BWV 851 in D min (Bach) is based on Bach's famous no 6. BWV (Bach Werke Verzeichnis) was a number assigned by Bach and others to compositions to give them a unique identification.  However, identifying the original will do you little good here because, whilst there are certainly references to and arrangements around the original, this is Bach influenced certainly but not Bach as we know it. The unraveling of the hidden essences contained in Bach's original is intriguing and, at times, you wonder if the number is based on the original at all but this is a wonderful inclusion on the CD and a show-stopper of a number. Beginning all dark and moody with bass rhythmically pounding out a single note over which the percussion bangs and echoes. The piano joins and the sound builds into something quite extraordinary.  The thing which strikes the listener is how the percussive note of the finger striking the string is heard from the bass and the leaving in of that very basic functionary percussive noise is genius. At some point the piano takes over the bass line and then develops the theme, playing, exploring and extrapolating notes which Bach probably didn't realise were there before we return to the single note with the theme over the top. There is too much going on in this number to describe all its wonders in full. Towards the end of the track, there is a piano cadence, after which Bach's 'Praeludium' emerges just as it was written – fast, very fast and delivered perfectly. It is wonderful to hear such a strong classical style played in a different way, neither classical nor jazz but totally wonderful and also to hear the respect for the original which comes out at the end.
Astor Piazzolla's 'Oblivion' is known as it was used in the soundtrack of Bellochio's 'Henry IV' film and has been recorded in many versions, with the solo instrument often an oboe,  clarinet or sax quartet and orchestra. Here, the melancholic theme with a slow Bolero rhythm – a Latin rhythm not heard that much but here effective – is worked out by the piano over subtle bass and percussion. There is a long and lovely bass solo, arranged by Marco and lots of spacey cymbals. This gentle track is an oasis amidst the fervour and intensity of the other tracks.
Coltrane's 'Giant Steps' is delivered from the start with changes of tempo and rhythms which is both respectful to 'Trane and yet implicitly original. A sonorous and low-key bass solo adds weighty gravitas which develops into a bit of fun over which the piano wriggles and squirms whilst the percussion supports. This is a great arrangement of such a well-known piece. Marco's notes almost run into each other, which is a bit of a trademark, such is the speed of delivery at times and the drum solo is well timed and impressive. Then we go into walking bass under the piano theme and finish with a flourish.
Sammy Fain's ' Love Is A Many Splendored Thing'  is just about the only straight delivered track on the CD and is beautiful for those of a romantic nature. It shows how versatile Marconi is because there is emphasis, emotion, and beauty with the bass taking over the theme halfway through before the piano picks it up again, of course, given a few twists and tweaks.
'I remember Michel'  (Marconi) is gentle and has that recurring returning to the theme once, twice in quick succession, then a development, then returns, which I am learning to be a Marconi trademark and it works really well.  In this track, every time the theme returns it is changed, altered just a little and the cleverness in this subtlety means you feel the return to the familiar but never stop listening because it is familiar but never ever the same. At 5 mins or so there is a change with bass and percussion discussing notions and ideas with the piano, who improvises on the inherent chords, which again, adds change and colour to the track. It finishes with the piano notes setting off on their own little journey into the ether. Lovely.
'Cancion para Amar' (Marconi) is a track of atmosphere, changes, and rhythms but it swings right the way through. The bass from Tom Farmer is really good on this track both in the solos and in the background supporting the piano. The contrasts in this piece are worth waiting for, especially in the second half where the piano swells in volume before the finish.
'Star Wars' (Williams) is the final track on the CD and this is space but not in the sense, anyone knows it.  Everyone has a bit of fun on this track with the piano arrangement seeking out every hidden note- every note you didn't know was hidden even- and playing them all at sometimes obliterating speed.  The theme is never lost yet the changes are almost constant. The percussion is strong and the piano at times could almost be the string half orchestral arrangement of the film score, deep notes emphasised whilst the right-hand tinkles away, improvising over and around the theme. Totally fun and completely engaging. Marco almost goes over to the dark side but never quite loses it. The Charleston section is frivolous and completely bonkers.  Not grinning is not an option. Brilliant.
The bonus track is a piano solo number of the Bee Gees 'Staying Alive' and I don't know what to say. It is fast, furious intense and mesmeric.  So I shall leave it at that and let other listeners far wiser than me decide about this track.
What is engaging about this pianist is the layers he adds, the attention to minutiae which the ear either completely misses, which is fine as there are things going on enough to entertain or you suddenly pick up the additions, the extra little trills and linkages he inserts and you wonder how the heck he does it and is there more? Once or twice, the business almost got the better of me but listen after listen you genuinely hear more. The combination of a truly intuitive musician and the player with well-chosen tracks makes this album something of a gem. It is so easy to trivialise words and players by saying they are genius, or deeply talented and at the end of the day, each reviewer has their preferences.  For me, this is honestly one of the classiest, varied and interesting albums I have heard and musically it is so packed with talent it almost is beyond description (almost). Those words often bandied about without meaning here should be applied and understood. This CD is genius.  This is an album to have, play and listen again because it just keeps giving.  An admission here is that if anyone had told me a while back I would be quite so enamoured of a CD where the main instrument is the piano I would question their sanity because none I have heard has the excitement and variety I need to remain interested right to the end. This CD puts that notion to shame. Trialogue genuinely entertained and delighted from the first to last note.
To remain interested right to the end. This CD puts that notion to shame. Trialogue genuinely entertained and delighted from the first to last note.               
The album will have its launch at the amazing space which is;
606 Club 90 Lots Road, Chelsea, London SW10 0QD  on 27th June 2017.
If you can't wait or can't make the release party:
Label: 33 Jazz Records cat no. 33jazz264 is released 28th April 2017.
Label buy link: www.33jazz.com
Buy Link: Amazon
_______________________________________________________
Personnel
Marco Marconi: Piano
Tom Farmer: Double Bass
Emiliano Caroselli: Drums
Picture credits: Paul Jolly
Last modified: July 15, 2018